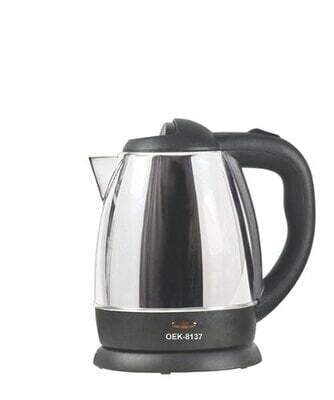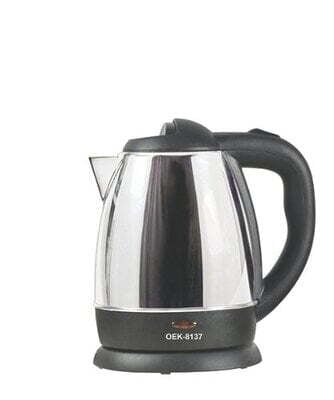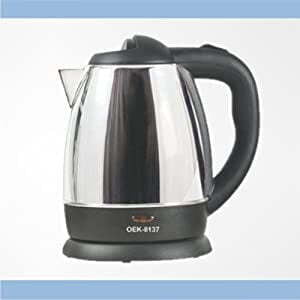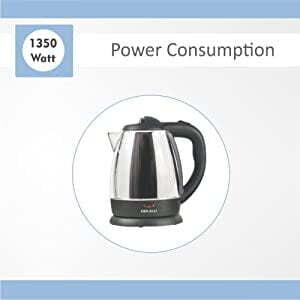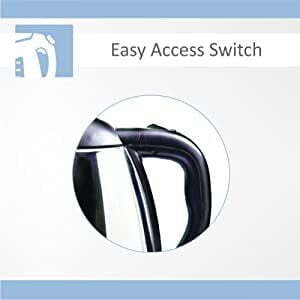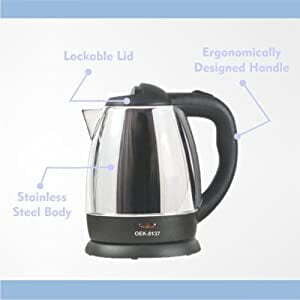 Orpat Electric Kettle 1.2Ltr SS OEK 8137
Capacity: 1.2L
Body Material: Aluminium Die Cast And Stainless Steel
Ideal For: Heating Water
Power Consumption: 1350W
Additional Features: 360 Degree Base Rotation
Cocealed heating element with stainless steel and aluminium die cast body for extreme long life
Wide mouth for easy to clean
Over heating safety protection
Auto stop with indicator light
Orpat OEK-8137 1350-Watt Cordless Kettle
ORPAT OEK-8137 1350-WATT CORDLESS KETTLE

Modernize your kitchen involvement in Orpat 1.2-liter electric pot, comprised of tough, brushed aluminum pass on cast and treated steel for trustworthy quality and administration. Wellbeing highlights of electric pot incorporate auto shutoff when water bubbles, on marker light, and bolting top. Pot lifts off corded base for simple filling and pouring. Spout channel keeps water spilled out to stream consistently absent a lot of spillage. Auto shutoff when water arrives at breaking point, this implicit wellbeing highlight guarantees that the pot will never overheat or bubble over, which could harm the pot, it is likewise adorned with power on light.
Capacity: 1.2L
Body Material: Aluminium Die Cast And Stainless Steel
Ideal For: Heating Water
Power Consumption: 1350W
Additional Features: 360 Degree Base Rotation

| | | |
| --- | --- | --- |
| | | |
| EASY ACCESS SWITCH | . | POWER LIGHT ON FOR SAFETY |
| The ON/OFF switch is exactly at the head of the handle in this pot which is immovably intended to give an extraordinary and smooth working of apparatus for your benefit. | | With many kettles, You can't tell if they're hot except by touching them. But with the orpat kettle you'll know just by looking, when the power light is on. |
1350 WATTS OF POWER



.

SLEEK DESIGN AND DURABLE BODY

Aluminium Die Cast & Stainless Steel Body

This electric kettle has 1350 watts of power that allows boiling of water in just few minutes. The quick boiling makes it more demanding appliance for all modern kitchens.

The electric kettle is designed with aluminium die cast and stainless steel to ensure a high durable long lasting performance. The Stainless Steel makes it look smart along with granting dependable quality & service.

Lockable Lid

The Locking Lid is another great safety feature of this kettle. The lockable lids prevent accidental spills while you're pouring.

Ergonomically Designed Handle

The handle is designed in a way that gives an easy and strong grip. The design is so conveniently done that it allows maximum grip while accessing lid button.