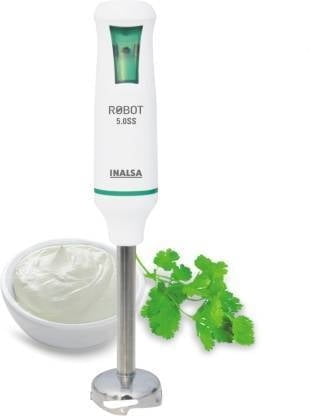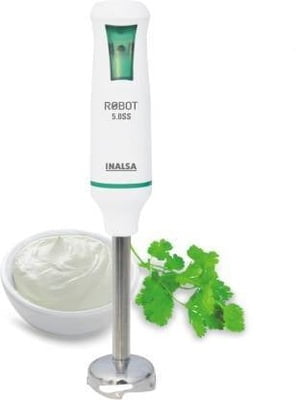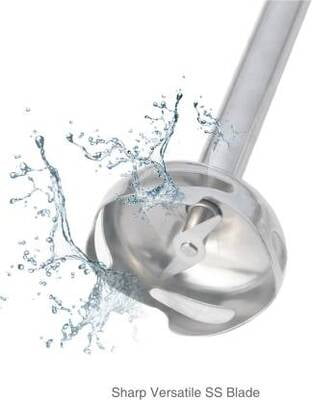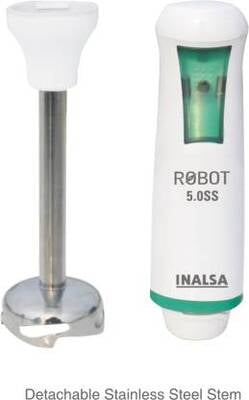 Inalsa Robot 5.0 SS 500 W Hand Blender
Inalsa Robot 5.0 SS 500 W Hand Blender
Get 100% Branded Products Only
7 Days Replacement Guarantee
Includes: Hand blender, Instruction Manual, Warranty card and Service centre list

Product Dimensions: 6.3 cm (Length) X 7.5 cm (Width) X 36.7 cm (Height), Weight: 0.70 kg

Warranty: 2 Years

i) Motor type- 500 watts DC motor ii) Sharp versatile stainless steel blade

Great Features -i) 2 Years Warranty on Product ii)Convenient push button with Elegant design iii)Stainless steel stem and blade guard
Inalsa Robot 5.0 SS 500 W Hand Blender
Elegantly designed with convenient push button. Versatile stainless steel blades with blade guards to avoid getting hurt.
500 Watt DC Motor Stainless Steel Stem & Blade Guard Sharp versatile SS Blade Elegant design Convenient push button.
Inalsa Robot 5.0 SS 500-Watt Hand Blender
Hand blenders are handy as they help in faster completion of our daily chores. The Inalsa robot 5.0 ss 500-watt hand blender is a great appliance to simplify your daily mixing and blending tasks, whether it is blending a smoothie for breakfast or mixing dough for baking. This Inalsa hand blender offers a powerful dc motor providing power and control to perform all your blending operations. The extremely comfortable and slim grip is another added advantage as it makes it easy to handle. This blender is also energy efficient, allowing you to save on your power bill.
500- Watt Powerful DC Motor
Stainless Steel Stem and blades
1 Hand Blender, 1 Stainless Steel Stem,
Elegant Design
Broad Switch for Easy Use
| | | |
| --- | --- | --- |
| | | |
| Powerful and Stable | . | Stainless Steel Blade |
| This hand blender is equipped with 500-watt DC motor, which is evenly balanced for power and long-lasting durability. It crushes veggies, fruits, nuts, meat chunks and ice in a flash! | | Featured with super sharp stainless steel blades that grinds & blends every little particle perfectly leading to grant you amazing blending results. The specially designed high quality stainless steel jar blades has been tested extensively to provide the best results. |
| | | |
| --- | --- | --- |
| | | |
| Detachable Stainless Steel Stem | . | Slim-Grip to Fit Any Hand |
| This hand blender can be easily dismantled and its parts can be quickly cleaned. The high grade stainless steel stem makes it for long life use and smooth operations. | | The Inalsa hand blender has a slim-grip to fit any hand. The sleek, contemporary style with single and broad switch feels comfortable in your hand and makes operation quick and easy. |
| | | |
| --- | --- | --- |
| Brand | | Inalsa |
| Generic Name | | Hand Blender |
| Power Consumed: | | 500 W |
| Power Supply | | 220-230 V |
| Sales Package | | 1 Unit : Hand Blender |
| Model | | Robot 5.0 SS DC Motor |
| Series | | Robot 5.0SS |
| Blade Material | | SS |
| Warranty | | 2 Years Inalsa Warranty |
| Country of Origin | | India |