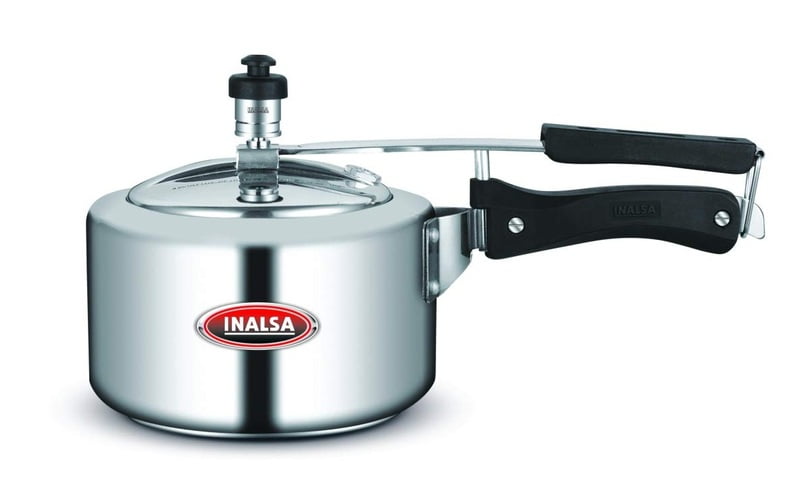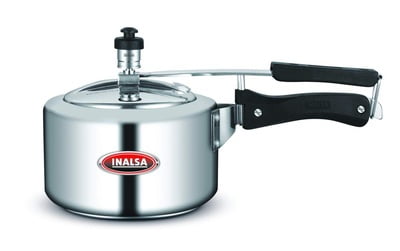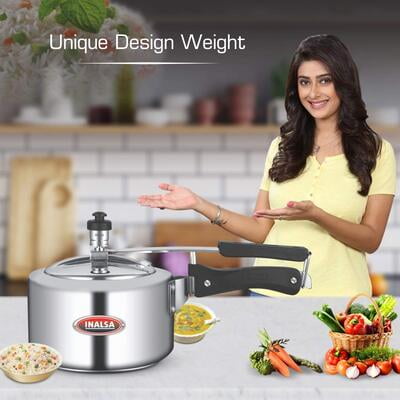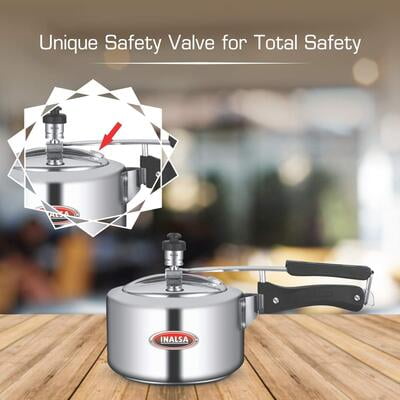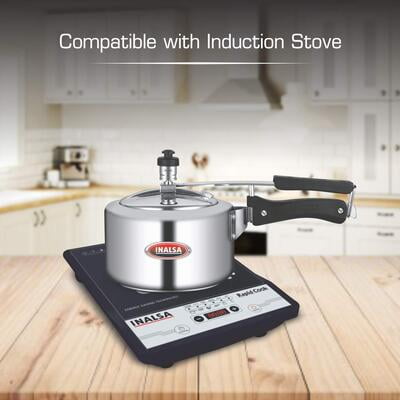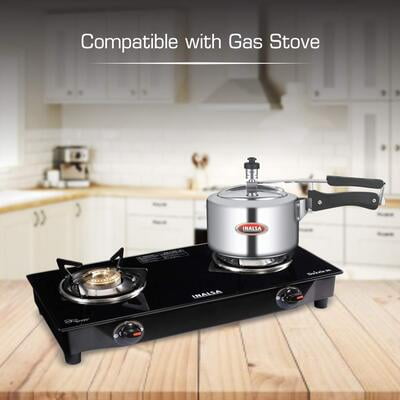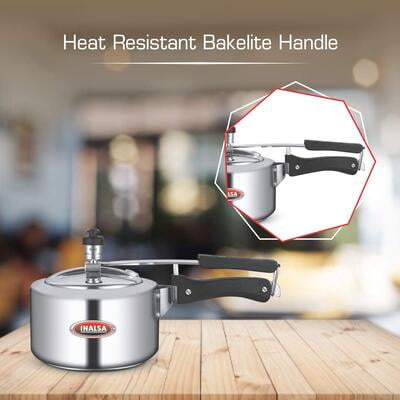 Inalsa Primo 3 Litre Pressure Cooker with Outer Lid (Silver)
Inalsa Primo 3 Litre Pressure Cooker with Outer Lid (Silver)
Get 100% Branded Products Only
7 Days Replacement Guarantee
Aluminium heavy gauge 100 percent food grade virgin material
Support: Compatible with gas, electric and induction cooktop
Handle: Heat resistant bakelite handle
Safety features: Unique safety valve for total safety
Warranty: 1 year on product
Includes: Pressure Cooker 3L, User Manual and Service Center List
Inalsa Primo 3 Litre Pressure Cooker with Outer Lid (Silver)
The Inalsa pressure cooker is just the thing you need if you are looking for an all-purpose cooking utensil. This Inalsa model is convenient to use and can be used for both boiling and slow cooking food. The outer lid easily fit locks and covers the food while cooking. Featuring a gasket ring with a safe release valve, you do not have to worry about any mishaps with this pressure cooker. Furthermore, with its induction base, you can use it on induction tops as well as gas stoves with equal ease.
Inalsa Primo Induction Base Aluminium Pressure Cooker with Inner Lid, 3 Litres (Silver)
Now, Cooking is Just a Matter of Time
Inalsa pressure cookers is highly reliable and made from pure virgin aluminium. A remarkable feature of this pressure cooker is that it enables users to save around 53 percent time and fuel. Food prepared in this cooker is quite healthy as cooking takes place at a temperature of sterilization, and its cooking speed helps the food in retaining its nutritive value.
Now easy to prepare many types of vegetarian and non-vegetarian foods such as dal, chicken, dry vegetables, rice, and curries.
Made from high quality aluminium

Fit for both induction and gas cooking

Ideal for small to medium households

Leak-proof design for peace of mind

Made from superior materials, the safety valve and the long lasting gasket of this Inalsa pressure cooker are perfect for your kitchen.

Durable construction and easy to maintain
Fit for Both Induction and Gas Cooking



.

Safe and Versatile Pressure Cooker




Made from high quality virgin aluminium and featuring highly ergonomic safety handles, the 3-litre Inalsa Primo pressure cooker is built for long-lasting durability while providing excellent ease of use. This material also enables even distribution of heat, leading to faster and more efficient cooking. Now, Cooking a variety of delicacies like vegetable or meat curries, biryani and so on like a master chef

The Inalsa Primo pressure cooker is durable and ensures efficient functionality. Sporting a precision whistle, this aluminum pressure cooker lets you regulate the pressure, ensuring the right amount of steam is released.

Featuring a gasket release system with metallic safety plug and precision weighted valve, this pressure cooker has safety at the forefront while cooking.
Durable Construction, Easy to Maintain
Constructed with easy grip to hold the pressure cooker and place it on cooktop, the Inalsa Primo aluminium pressure cooker is built to last for a long time, even with regular use. Made for use with gas stoves and Induction, this cooker is fairly easy to wash and maintain as well. Simply use a liquid soap solution and avoid abrasives to retain its looks for a long time.