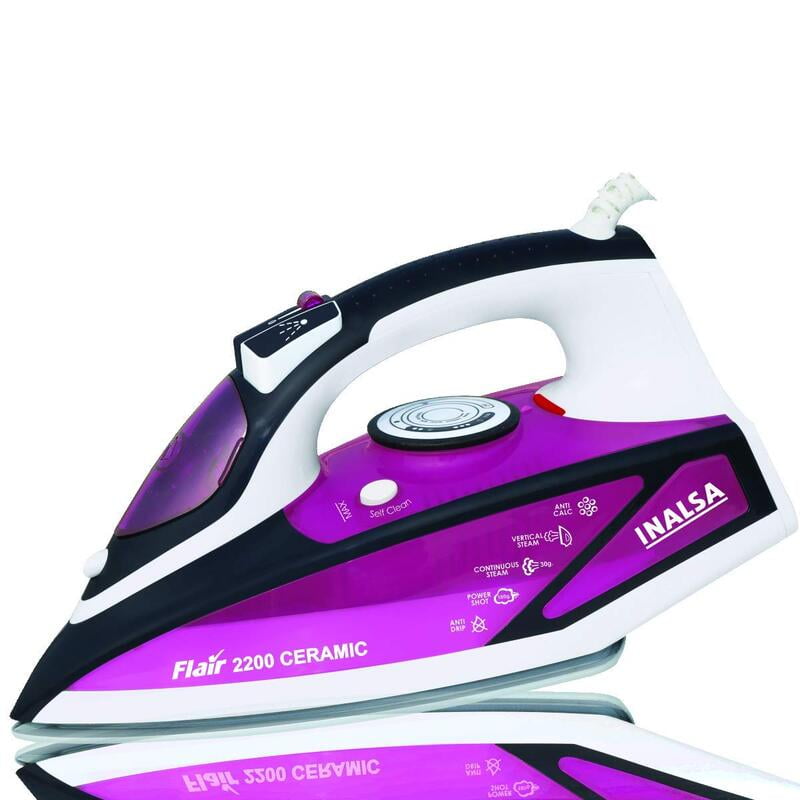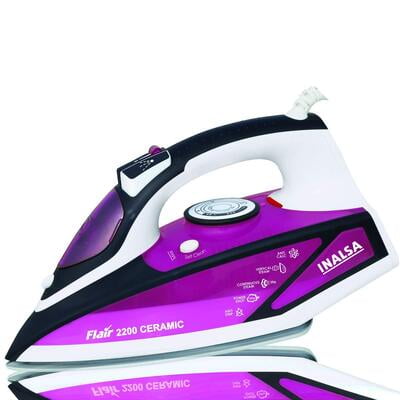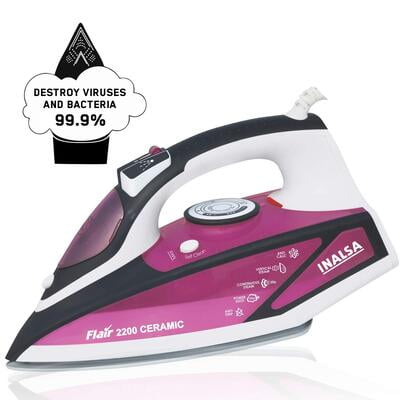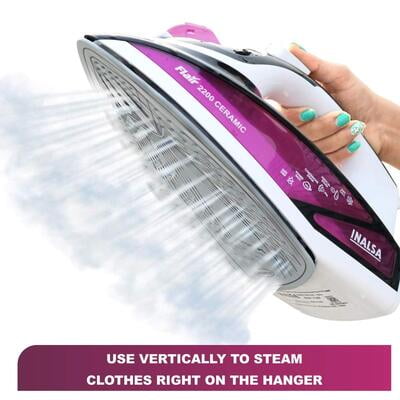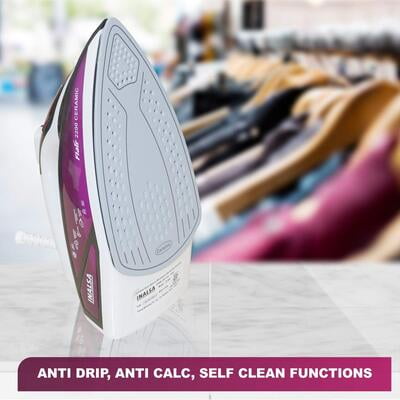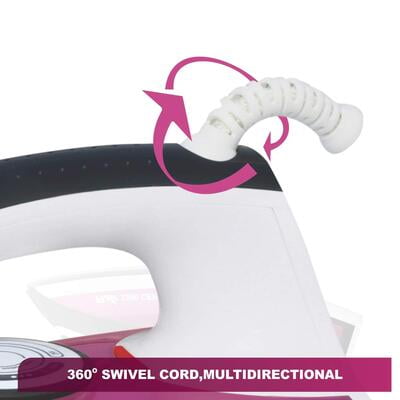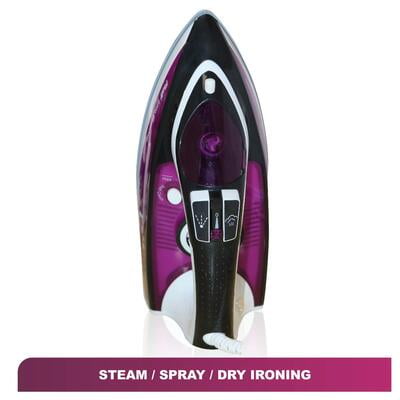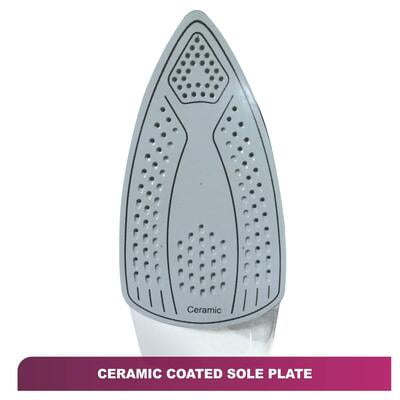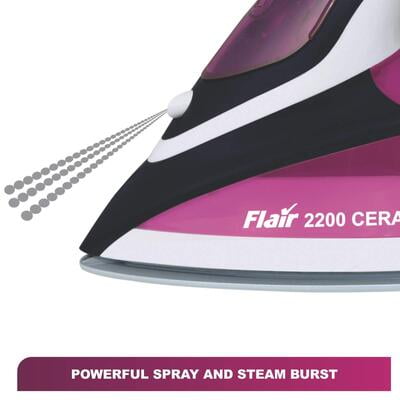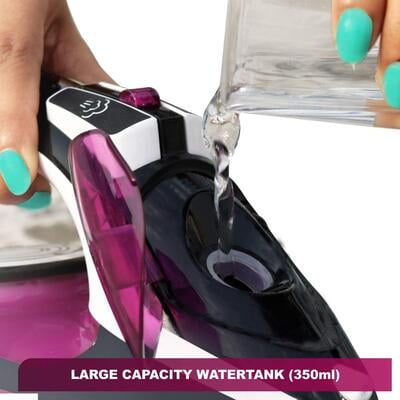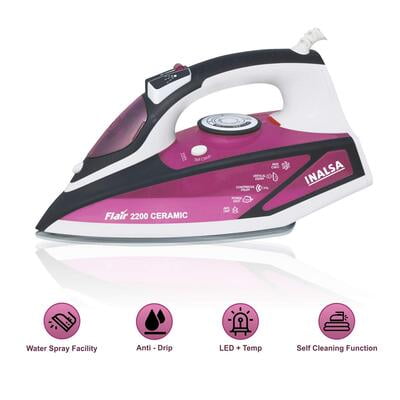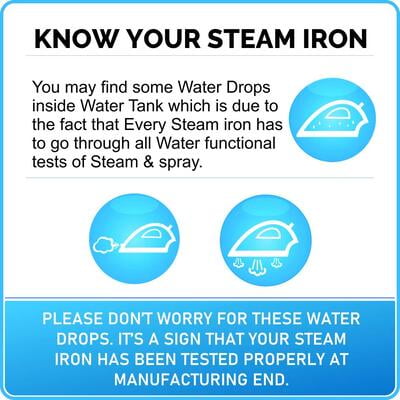 Inalsa Flair 2200-Watt Steam Iron
Inalsa Flair 2200-Watt Steam Iron
Get 100% Branded Products Only
7 Days Replacement Guarantee
Steam Iron
Ceramic Plate
Consumes 2200 W
Has Spray
Has Steam Burst
Inalsa Flair 2200-Watt Steam Iron
Flair 2200 Watt Steam Iron by INALSA
Powerful steam, precise temperature, professional results
Proudly made in India with Spanish design and loaded with features. This Inalsa Flair 2200 watt steam iron makes
easy work of removing wrinkles from fabric. The iron's smooth-gliding ceramic coated soleplate features 123 holes to ensure thorough steam distribution and time-saving efficiency, while its precision tip maneuvers effortlessly over collars, along seams, and between buttons. The iron works with tap water (no need for distilled) and powers on with a simple turn of the thermostat knob, which comes with clearly marked low to high heat settings and options for nylon, silk, wool, cotton, and linen. The iron auto-adjusts the steam output to match the sole-plate temperature (turn auto-steam off for dry ironing). It also offers "burst of steam" to remove tough wrinkles and vertical steam for drapes and hanging garments. An anti-calcium system prevents impurities for clean steam, and a self-clean system flushes out loose mineral deposits for optimal performance. From work shirts to table linen, the Inalsa Flair 2200 watt steam iron gets the job done!!
Inalsa Flair 2200-Watt Steam Iron with Ceramic Coated Sole Plate & Water Pouring Cup (Purple/White)
Get Perfect Look With Inalsa...
Get the professional finish of crisp and crease-free clothes, in the comfort of your home. It gives you maximum utility and make your ironing experience hassle-free. It protects the clothes and saves the energy consumption.
It features a large ceramic sole plate that glides on any fabric. Also has a control knob to adjust the temperature and steam burst functionality as per your requirements.
Anti-drip feature to avoid any water dripping from the soleplate in case the steam level is not reached

Ceramic coated sole plate - even heat distribution and best for all types of clothes

Easy and super fast filling of the watertank,Easy and super fast emptying of the watertank,A fine spray evenly moistens the fabric

Knob should always be at no steam position when product is not in use. Second and third setting is used only when soleplate is hot. Otherwise leakage will happen

Visible water droplets in the water tank means the iron was tested in factory and passed the quality test
Additional Features-
| | | |
| --- | --- | --- |
| | | |
| 2200 W Power | . | Ceramic Coated Soleplate |
| Inalsa Flair steam iron is operable on 2200 W, which gets your job done in much less time. The lightweight iron is easy to work with and its ergonomic design makes the job much easier. | | The high quality ceramic coated sole plate of the iron ensures that the delicate clothes do not stick to the plate. It therefore keeps your favorite clothes safe and make them last for years. The unique model provides easy access to difficult areas such as narrow edges, seems and collars. |
High Steam Rate
The efficiency of this steam iron relies on the brilliant cloud of steam that it lets out. It has 40gm steam boost that lets you target stubborn areas and iron thick clothes as well. The powerful puff of steam makes your clothes wrinkle free in just one push.