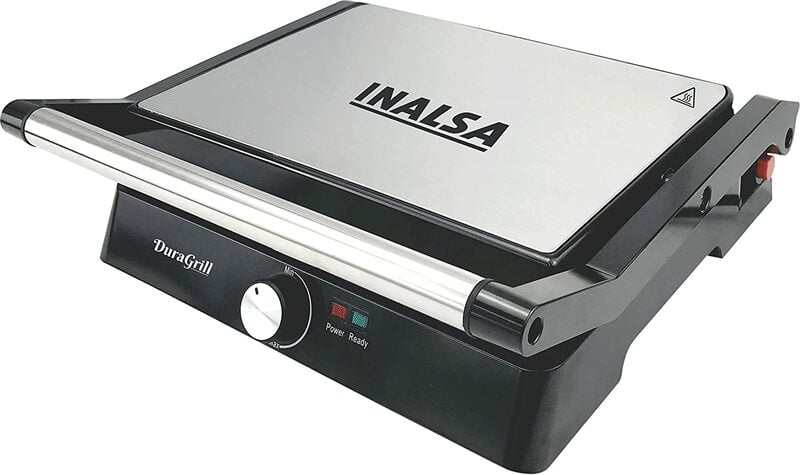 Inalsa Contact Grill, Dura Grill 2200 Watts Sandwich Maker
Key Features

:-
Large Non-Stick Coated Cooking Surface

Power and Ready to cook Indicators

Adjustable Temperature Control

Stainless Steel Top Decoration

Inbuilt Oil Collector Tray

Free Wooden Spectula

Inalsa Contact Grill, Dura Grill 2200 Watts Sandwich Maker
Dillimall Provides you a wide range of Toaster and Sandwich maker at reasonable price range. The Inalsa Contact Grill, Dura Grill 2200 Watts Sandwich Maker comes with Free Wooden Spectula, Large Non-stick coated cooking surface
Inalsa Dura Grill comes with 2200 Watts heating power which is a perfect fit for your daily routine. Easily usable for making large grilled sandwiches, grilled veggies, Burgers and steaks, Excellent for all Occasions, Dura grill comes with extra-large cooking surface with Adjustable floating plates to food stuffing that can open up to 180° that meet all your family needs. Use it for making breakfast, evening snacks and hosting events or parties, Cord length: 1 m, Power Requirement : 220-240V, AC. Non-Stick Coating & Easy Cleanup, It comes with Non-stick coated cooking plates for reliable use and easy cleaning along with adjustable temperature controller to make your food more crispier and tastier.
Large Non-Stick Coated Cooking Surface
Power and Ready to cook Indicators

Adjustable Temperature Control

Stainless Steel Top Decoration

Inbuilt Oil Collector Tray

Free Wooden Spectula
Inalsa Contact Grill, Dura Grill 2200 Watts sandwich maker has Adjustable Temperature Control and Inbuilt Oill Collector Tray. It has a cool sliding touch handle for a better grip and power & ready to cook Indicator Lights that Indicates when the food is ready to serve .
Inalsa has been the choice of every Indian for over 50 years. It is the fast-growing company and has envisioned a great product – Inalsa Dura Grill Contact Grill, which will make it easy for you to cook during busy days and events or parties. The Dura Grill Toaster is easy to use and has a large surface area for cooking more food in a limited time. Adjustable temperature control helps in getting the temperature right for crispier taste. This contact grill has non-stick coated cooking plates so that food doesn't stick or cooked unevenly throughout and is easy to clean. It offers extra safety, stability and comfort with large non-stick plates and cool touch sliding handle. Inalsa excels in manufacturing home appliances under ISO quality. It has been delivering high-quality products and professional services to its customers, and has an innovative product range of appliances.
| | | |
| --- | --- | --- |
| Brand | | Inalsa |
| Model | | Dura Grill |
| Model No | | Dura Grill |
| Generic Name | | Sandwich Maker |
| Manufacturer | | Inalsa |
| Power Wattage | | 2200 Watts |
| Capacity | | 4 Slice |
| Unique Thing | | Over Heat Protection |
| Additional Features | | Ready to Cook indicator |
| Functions | | Grill Sandwich Maker |
| Controls | | Rotatory Control |
| Material | | Bakelite |
| Power Requirement | | 220 - 240V, AC |
| Cord Length | | 1 m |
| Cooking plates | | Non-Stick Coated |
| Warranty | | 2 years |
| Country Of Origin | | India |