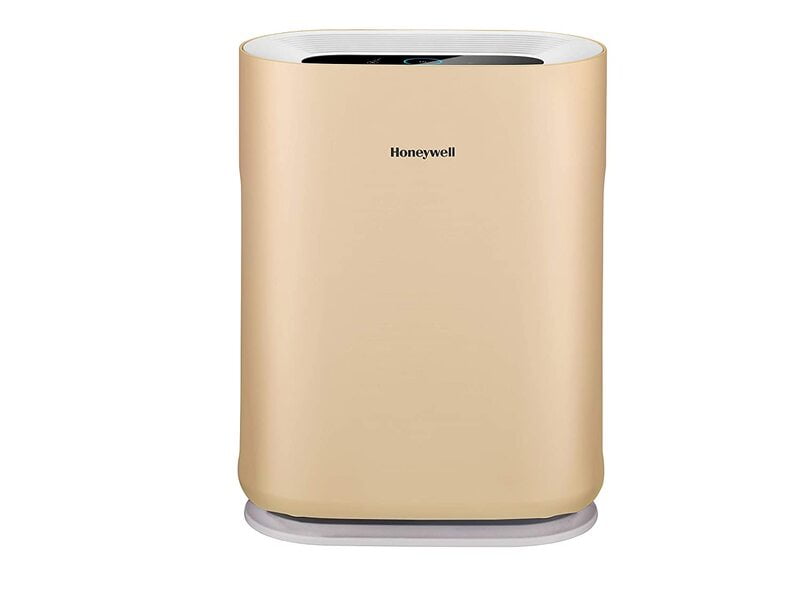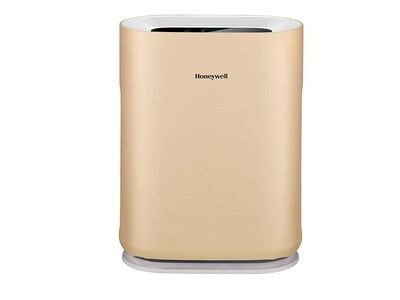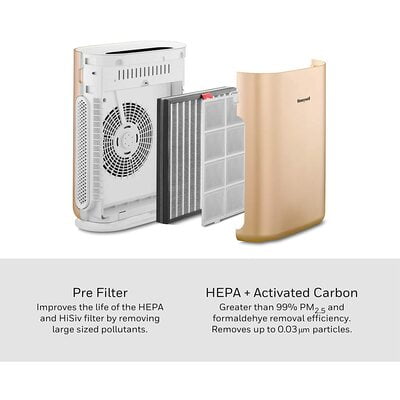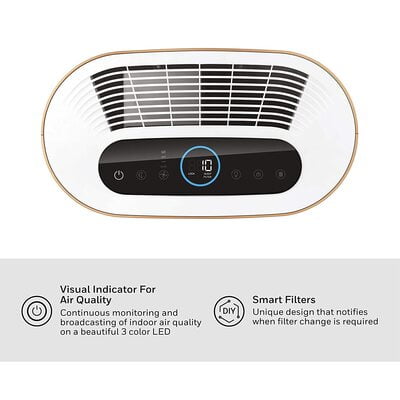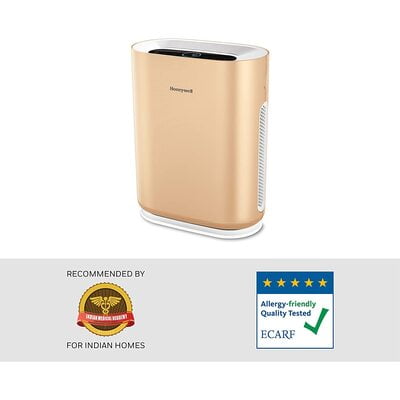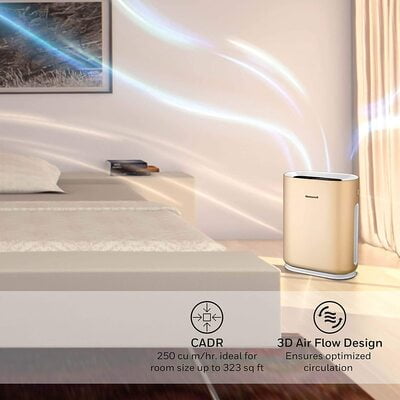 Honeywell Air Touch A5 53-Watt Room Air Purifier (Champagne Gold)
Honeywell Air Touch A5 53-Watt Room Air Purifier (Champagne Gold)
Get 100% Branded Products Only
7 Days Replacement Guarantee
Presenting Air Touch A5 indoor air purifier by Honeywell, a Fortune 100 company
Versatile Coverage Area and efficiency - CADR (Clean Air Delivery Rate) - 250 m3/h, offers up to 323 sq. ft. coverage area for a room with 9 feet height - suitable for use in living rooms and bedrooms
Three stage advanced filtration system that removes pollutants with more than 99% efficiency
Washable pre-filter that removes larger dust particles, pet hair/dander, soil etc
Combined filter with High-efficiency HEPA and activated carbon filter that removes any microscopic pollutant and allergens above 0.3 microns including PM2.5 and pollens
It also removes removes formaldehyde, toxic gases, VOCs & odour
Completely 'Ozone Free' Air Purifier. Does not emit any harmful gases as a byproduct of the filtration technology
Approximately 3000 hours of filter life, basis the ambient pollution can work for a year if used for 8 hours daily
Honeywell Air Touch A5 53-Watt Room Air Purifier (Champagne Gold)
Takes in air from the sides and bottom, releases pure air from the top at an angle appropriate to ensure optimum air circulation. An award winning design, developed keeping in mind Honeywell User Experience principles, the home air purifier offers a seamless product experience that is completely DIY in terms of installation, usage & filter replacement. No sharp edges, an anti-fall design with zero exposure to filters ensures that there is no risk to your children if they happen to touch the home air purifier.
3D Air Flow
Air vents on both sides and at the bottom of the purifer ensure enhanced suction of polluted air. 3D air flow technology makes pure reach even farthest corner of the room.
Powerful Cleaning of Room in Just 10 Minutes
A CADR of 250 cu.m/hr ensures the purifier can clean a room of size up to 323 sq. ft. in just 10 minutes. High CADR ensures effective cleaining in bedroom as well as living rooms.
Certifications Like No Other
Honeywell air purifiers are recommeded for Indian homes by Indian Medical Academy For Preventive Health and also certified by ECARF.
Low Running Cost Due to Low Power Consumption and High Filter Life
High filter life of 3000 hrs for the composite filter and very low power consumption means you incur very low running cost of purifier. Filter runs for around 9 months when you use the purifier for 8 hours daily.
Child Lock Feature
Don't worry about your kids around the purifier anymore. Child lock feature keeps the functioning of the purifier away from the reach of toddlers.
Service is Our Priority
Extended service network in 25 major cities across India.
Specification
General
| | | |
| --- | --- | --- |
| Brand | | Honeywell |
| Model | | Air Touch A5 |
| Model | | Air Touch A5 |
| Generic Name | | Air Purifier |
| Manufacturer | | Honeywell |
| CADR | | 250m3/h |
| Filtration System | | 3 Stage advanced filtration |
| Efficiency | | 99% |
| Washable Pre-filter | | Yes |
| Activated Carbon filter | | Yes |
| Filter Type | | HEPA |
| Filter Life | | Approximate 3000 hours |
| Child lock feature | | Yes |
| Warranty | | 12 Monthes manufacturer |
| Country of Origin | | India |