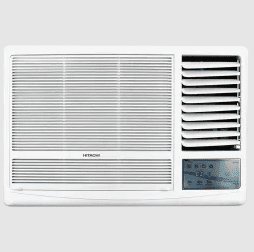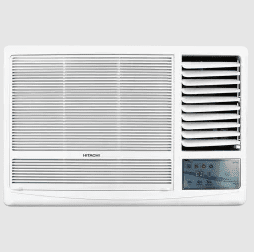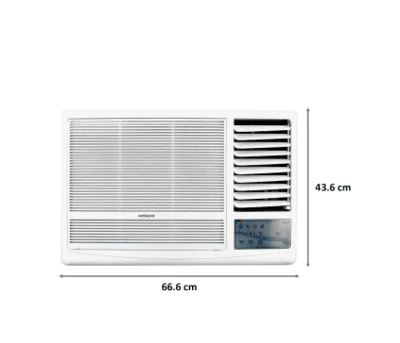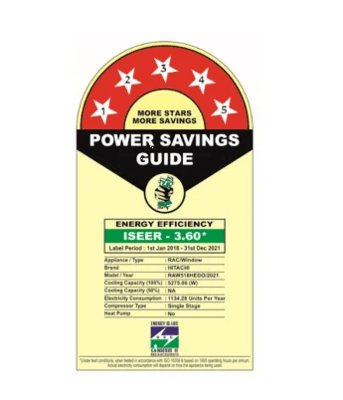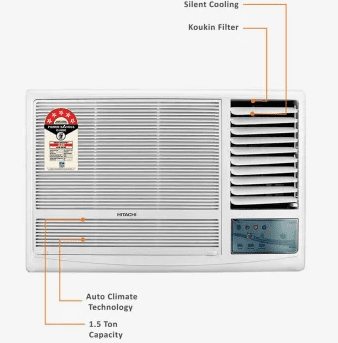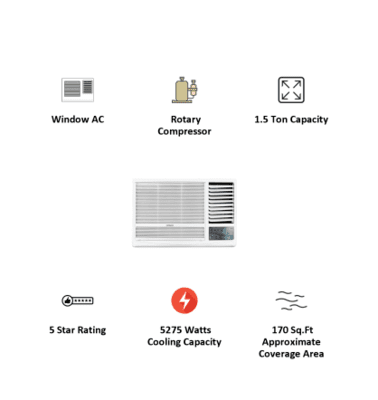 Hitachi RAW518HEDO Kaze Plus 1.5 Ton 5 Star Window AC 2022
Get 100% genuine and authentic product
7 days replacement guarantee



Key Features :-
1.5 Ton, 5 Star, Window AC
Approximate Coverage Area – 170 Sq. Ft (15.79 Sq. M)
Dimension: IDU – 66.6 X 76.1 X 43.6 cms
Rotary Compressor, Cooling Capacity - 5275 Watts
Copper Condenser
1 year on product Warranty, 5 Years Compressor Warranty
About this item
Windows AC: Economical & easy to install
1.5 Ton : - Suitable for medium sized rooms (111 to 150 sq ft)
Energy Rating: 5 Star : Best in class efficiency | Annual Energy Consumption (as per energy label): 1134.28 units | ISEER Value: 3.60
Manufacturer Warranty: 5 years on Compressor
Copper Condenser Coil: Better cooling and requires low maintenance
Key Features: On/Off Timer with advance Startup Time: The smart technology that reaches desired set temperature automatically at preset time, Filter Clean Indicator: A unique alert reminds you to clean the filter at regular intervals, ensuring powerful cooling all the time 100% Inner Grooved Copper Tube: Hitachi's 100% inner grooved copper ensures faster cooling with its turbulent refrigerant flow that enhances heat transfer rate Tropical Design: Hitachi ACs are designed to keep you cool and work efficiently up to 52°C.
Special Features: SuperFine Mesh Filter: Hitachi's unique SuperFine mesh filter captures microdust particle and also offers hassle-free cleaning LCD Remote with Backlight: Sleek remote with backlit display and nightglow buttons give you the comfort of various settings even during night time, Eco Friendly Green Refrigerant: Pre-charged with Green refrigerant Hitachi ACs are also eco-friendly.
Refrigerant gas: R32 - Environmental friendly - no ozone depletion potential
IDU dimension(l * b* h cms) : (66 * 75.5 * 43 cms) , IDU (kg) : (62 kg)
Included in the box: For Windows AC: One AC Unit, Remote Control, User manual, 2 Batteries
Hitachi RAW518HEDO Kaze Plus 1.5 Ton 5 Star Window AC
Dillimall Present The Hitachi RAW518HEDO Kaze Plus 1.5 Ton Window Air Conditioner with rotary compressor
Say goodbye to sweat and irritation by bringing home the
Hitachi Kaze Plus 1.5 Ton 5 Star Window AC
online. This window AC comes with a 1.5-ton capacity and 5-star energy efficiency making it an apt option for your family. The design of this AC includes a classic white colour on an ABS plastic body ensuring that your AC blends in pretty well in any room.
5 Years Compressor Warranty

for hassle-free living and usage of AC
•

R32 Eco-Friendly Refrigerant

for no damage to the environment
•

Copper Condenser

for enhanced cooling performance
•

ABS Plastic Body Material

for durability
The durable ABS plastic body ensures that the appliance stays protected from daily wear and tear and functions seamlessly in any weather condition. This window AC comes with a rotary compressor and copper condenser for maximised cooling effect. The R32 eco-friendly refrigerant ensures that the environment isn't affected by the release of gases into the atmosphere. All these features and functions make
Hitachi Kaze Plus 1.5 Ton 5 Star Window AC
's price justified for consumption. Go ahead, and buy
Hitachi Kaze Plus 1.5 Ton 5 Star Window AC
online right now!
New Kaze Plus Window Air Conditioner
New Kaze Plus will suit your cooling requirements of a superior window air conditioner.
Let's glance through the key features:
| | | |
| --- | --- | --- |
| | | |
| 100% Inner Grooved Copper Tube | | Tropical Design |
| Hitachi's 100% inner grooved copper ensures faster cooling with its turbulent refrigerant flow that enhances heat transfer rate | | Hitachi ACs are designed to keep you cool and work efficiently up to 52°C. |
| | | |
| Green Refrigerant | | Filter Clean Indicator |
| Pre-charged with Green refrigerant | | A unique alert reminds you to clean the filter at regular intervals, ensuring powerful cooling all the time |
| | | |
| SuperFine Mesh Filter | | LCD Remote with Backlight |
| Hitachi's unique SuperFine mesh filter captures microdust particle and also offers hassle-free cleaning | | Sleek remote with backlit display and nightglow buttons give you the comfort of various settings even during night time |
| | | |
| --- | --- | --- |
| Brand | | Hitachi |
| Model | | Kaze Plus |
| Model No | | RAW518HEDO |
| Generic Name | | Air Conditioner |
| Manufacturer | | Hitachi |
| Air Conditioner Capacity | | 1.5 Ton |
| Inverter Technology | | No |
| Stabilizer Free Operation | | Yes |
| Cooling Capacity | | 5275 Watts |
| Compressor Type | | Rotary |
| Refrigerant Type | | R32 |
| Noise Level (Indoor Unit) | | 50 dB |
| Condenser Coil Type | | Copper Condenser |
| Evaporator Coil Type | | Copper |
| Star Rating | | 5 Star |
| ISEER Rating | | 3.6 |
| Power Consumption | | 1465 Watt |
| Power Required | | 230 V/50 Hz |
| Body Material | | ABS Plastic |
| Warranty | | 1 year on product & 5 years on Compressor |
| Country Of Origin | | India |