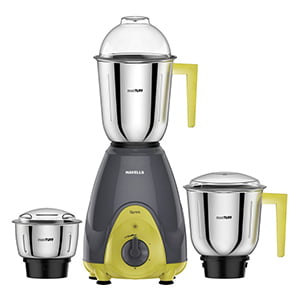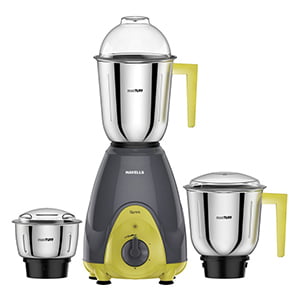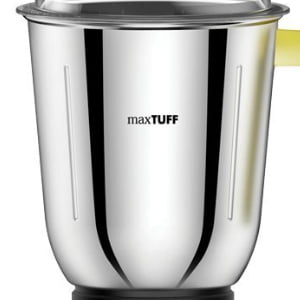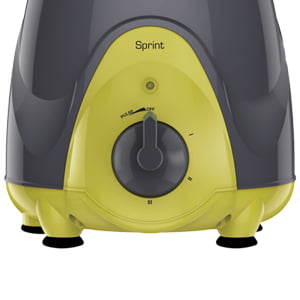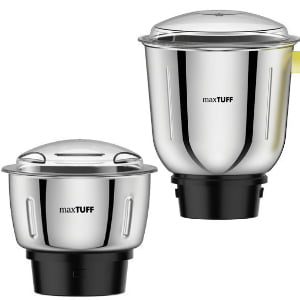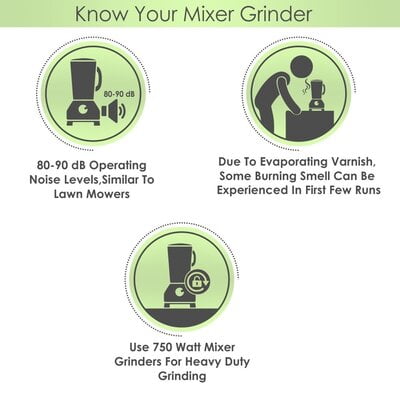 Havells Sprint 500 Watts Mixer Grinder Grey
HAVELLS SPRINT MIXER GRINDER GREY 500W
Cord winder for easy storage and big speed control knob for easy use, Stabilising feature: Vacuum feet to prevent movement of grinder while it is running

Rust or stain with water as ordinary steel does and food grade 304 stainless steel blade gives super fine mixing and grinding results

Warranty: 5 years on motor and 2 years on body.

Power: 500 watts; Power input : 230 V; Frequency : AC 50 Hz

Includes: Mixer grinder

3 stainless steel jars and SS-304 grade blades. The speed at no load is 18000 revolution per minute approximately
HAVELLS SPRINT MIXER GRINDER GREY 500W
A five years warranty on motor adds an extended reliability to its versatile features. The compact and stylish looks of this mixer is an additional advantage to your kitchen.
Cord winder for easy storage and big speed control knob for easy use, Stabilising feature: Vacuum feet to prevent movement of grinder while it is running
Rust or stain with water as ordinary steel does and food grade 304 stainless steel blade gives super fine mixing and grinding results.
Sprint 500-Watt Mixer Grinder by Havells
Make cooking easier!
If hassle-free cooking time is what you are looking for, then this mixer grinder from Havells is something you should check out. It has a control dial that lets you adjust the speed with ease. It comes with stainless steel jars that are not only sturdy but also corrosion resistant. Its motor is quite powerful and has a wattage of 500 to help you make preparations for cooking your favourite meal in an effortless way.
IMPORTANT FEATURES
Speed control knob
Power: 500 watts
Stainless steel blades
3 jars
Speed at no load: 18000 rpm (Approximately)
| | | |
| --- | --- | --- |
| | | |
| Jars feature ergonomic handles | . | Jars come with lids |
| Convenience is a big factor in every home appliance and this mixer grinder set from Havells has been designed keeping that in mind. The jars in this set come with ergonomic handles that make it easier for you to put them on top of the base or remove them from there after the work is done. | | For jars in a mixer grinder set, lids are very important. The jars in this Havells set feature lids that keep the mixture inside from spreading outside and also protect it from external pollutants. |
| | | |
| --- | --- | --- |
| | | |
| Features a stable base | . | Speed control dial |
| You can keep this mixer grinder anywhere without facing any issue. It comes with a stable base with anti-slip grips that prevent it from moving from any vibration that might occur while the process of grinding or mixing is underway. | | It is important to be able to regulate the speed of a mixer grinder as different food items require different procedures. This Havells kitchen appliance has three-speed settings that you can navigate between with its dial in a seamless way. |
| | | |
| --- | --- | --- |
| | | |
| Stainless steel jars | . | Sleek design and color combination |
| This mixer grinder from Havells comes with three jars. All the three jars have been made of stainless steel that not only renders them corrosion resistant but also makes them sturdy. | | Look is as important as the usefulness of a kitchen appliance. This mixer grinder from Havells features a sleek design that will perfectly complement the decor of your kitchen. |