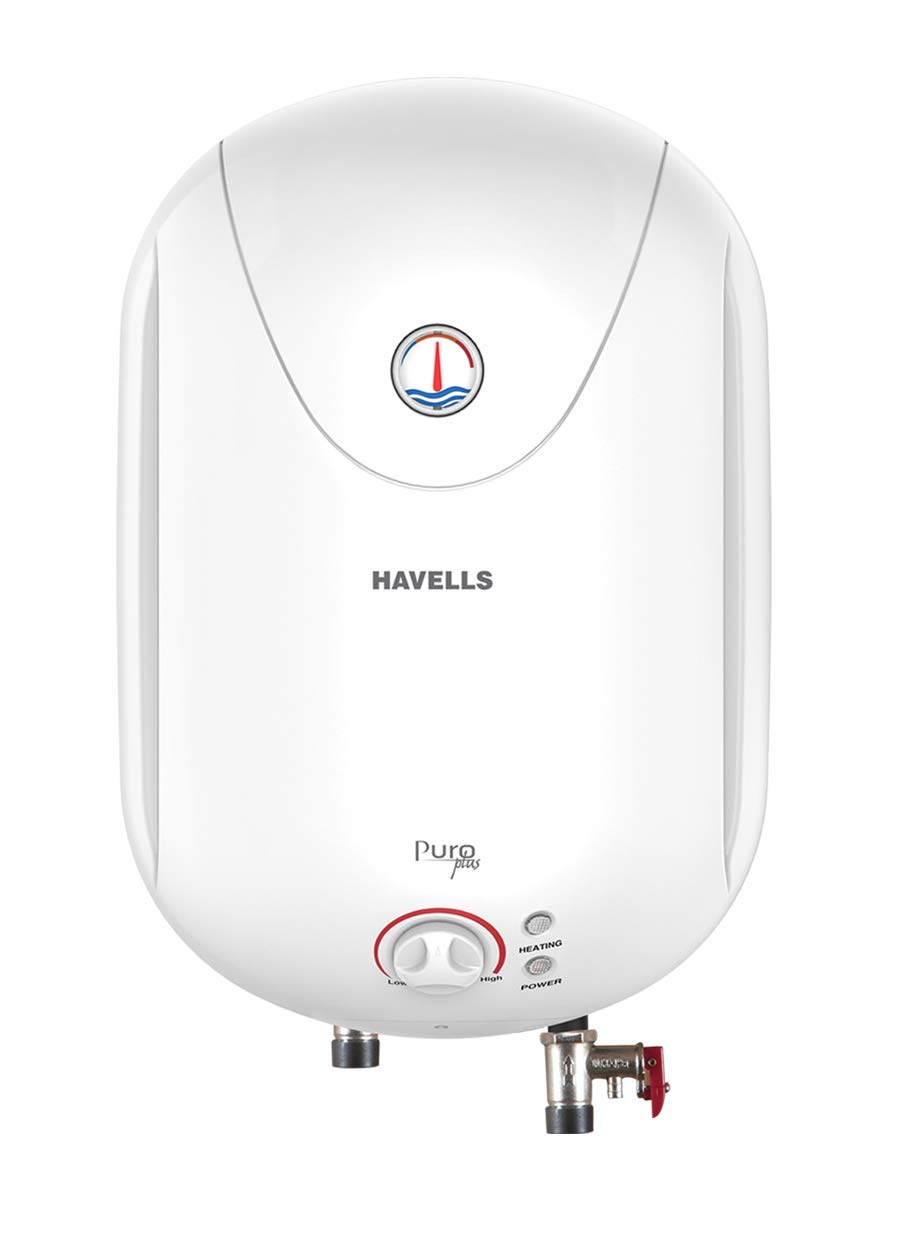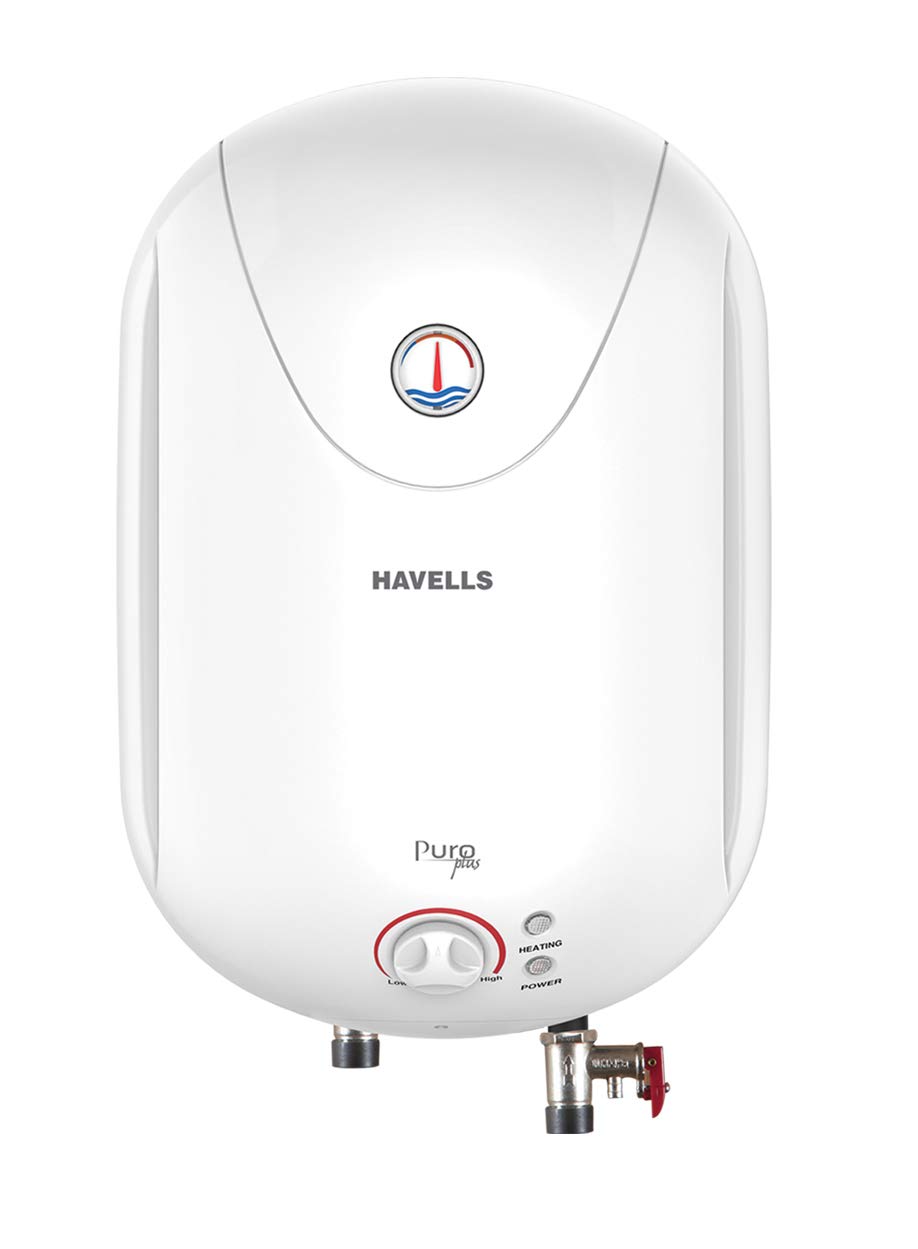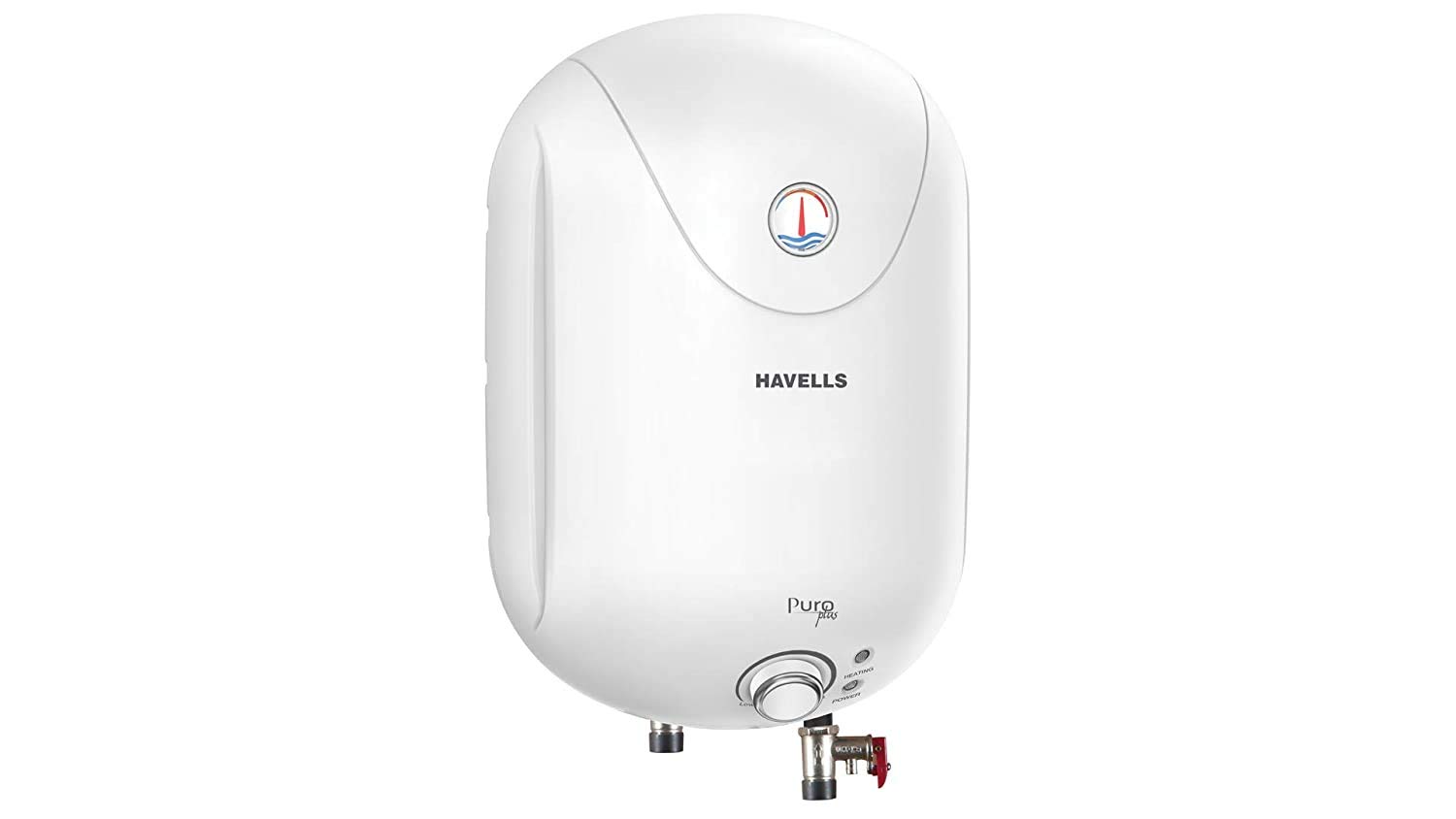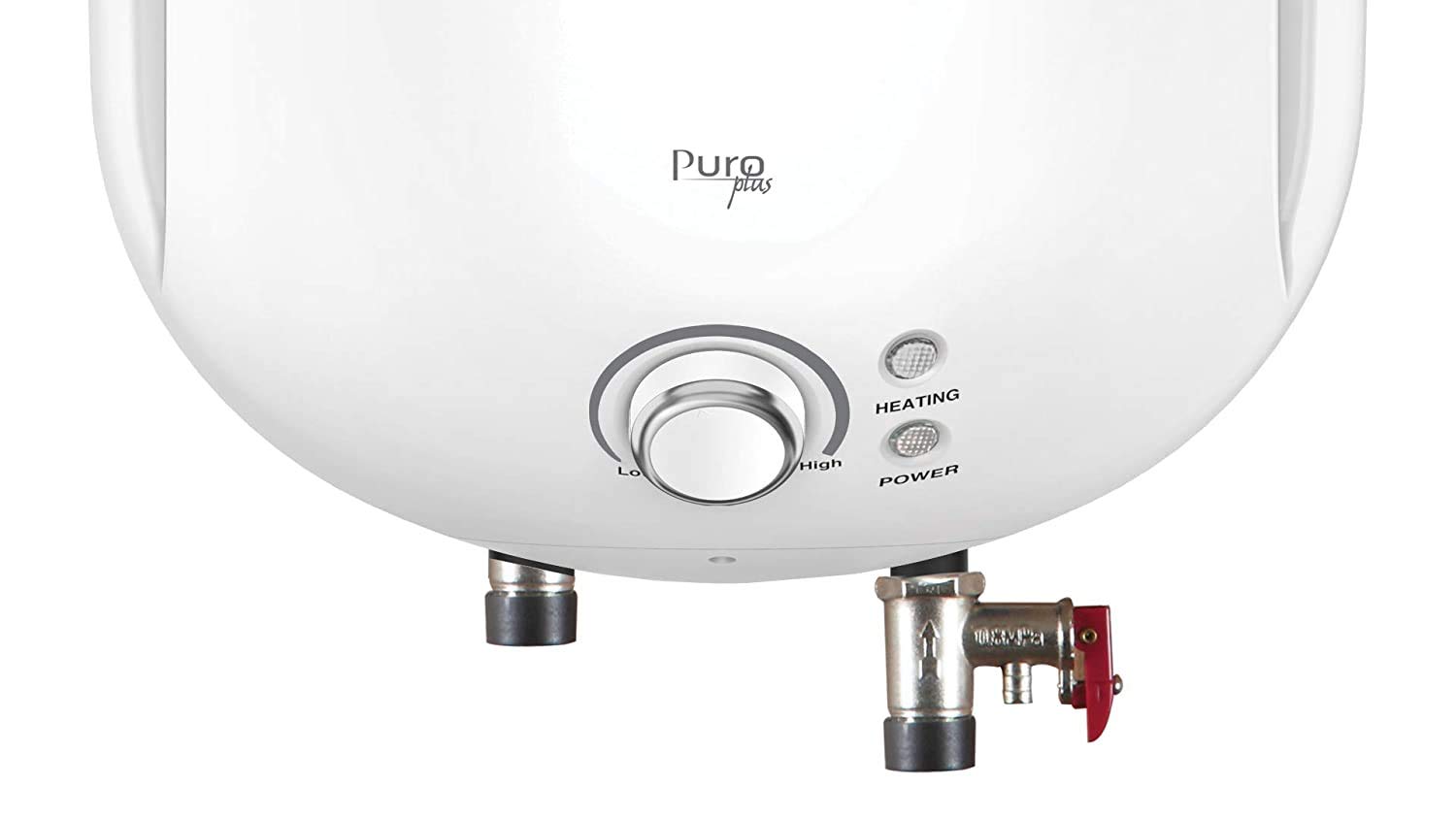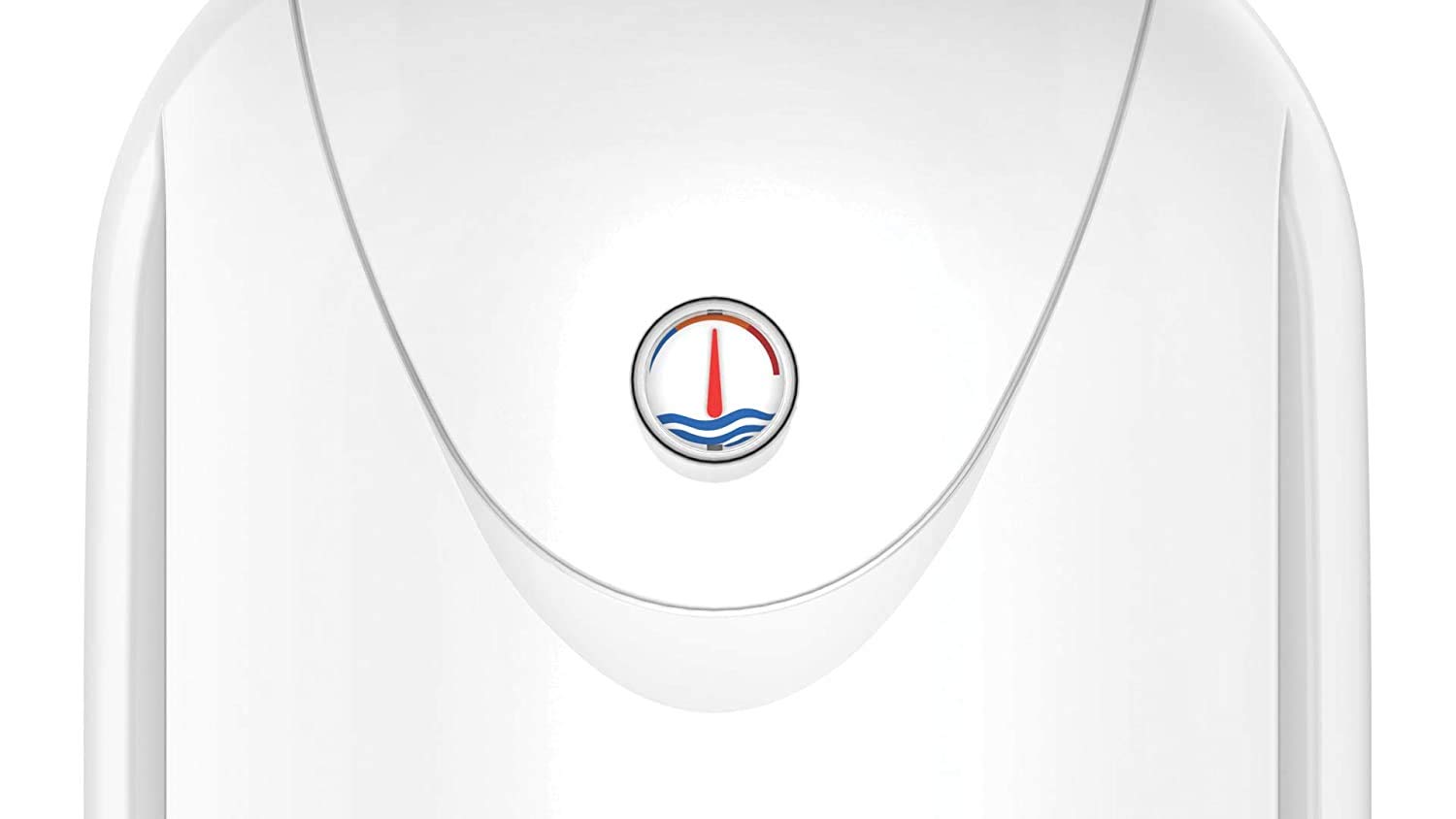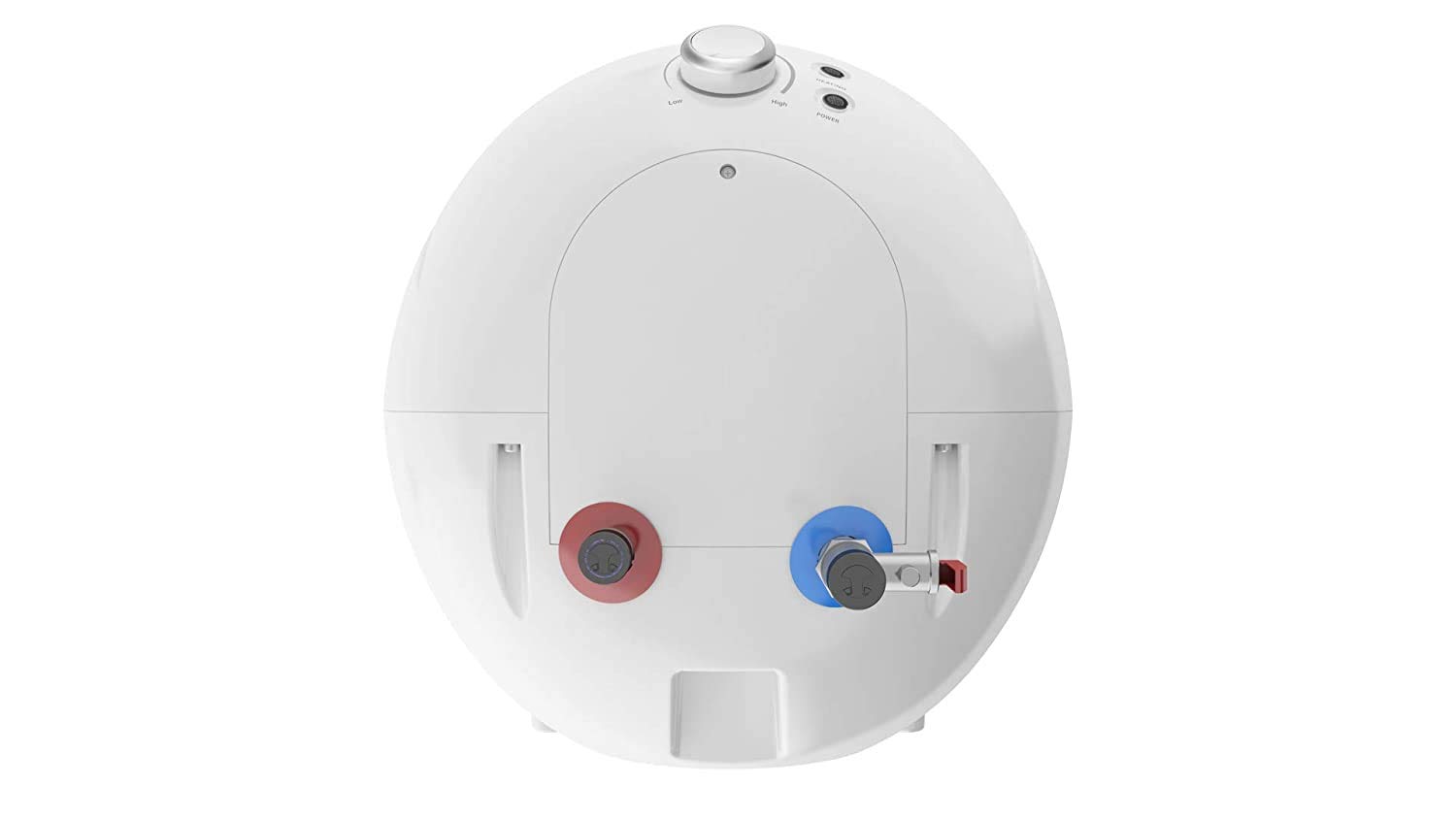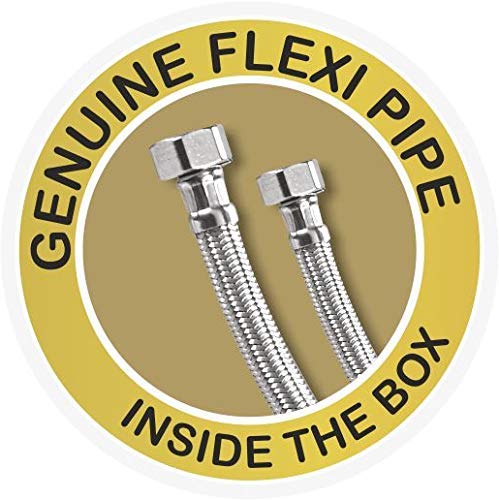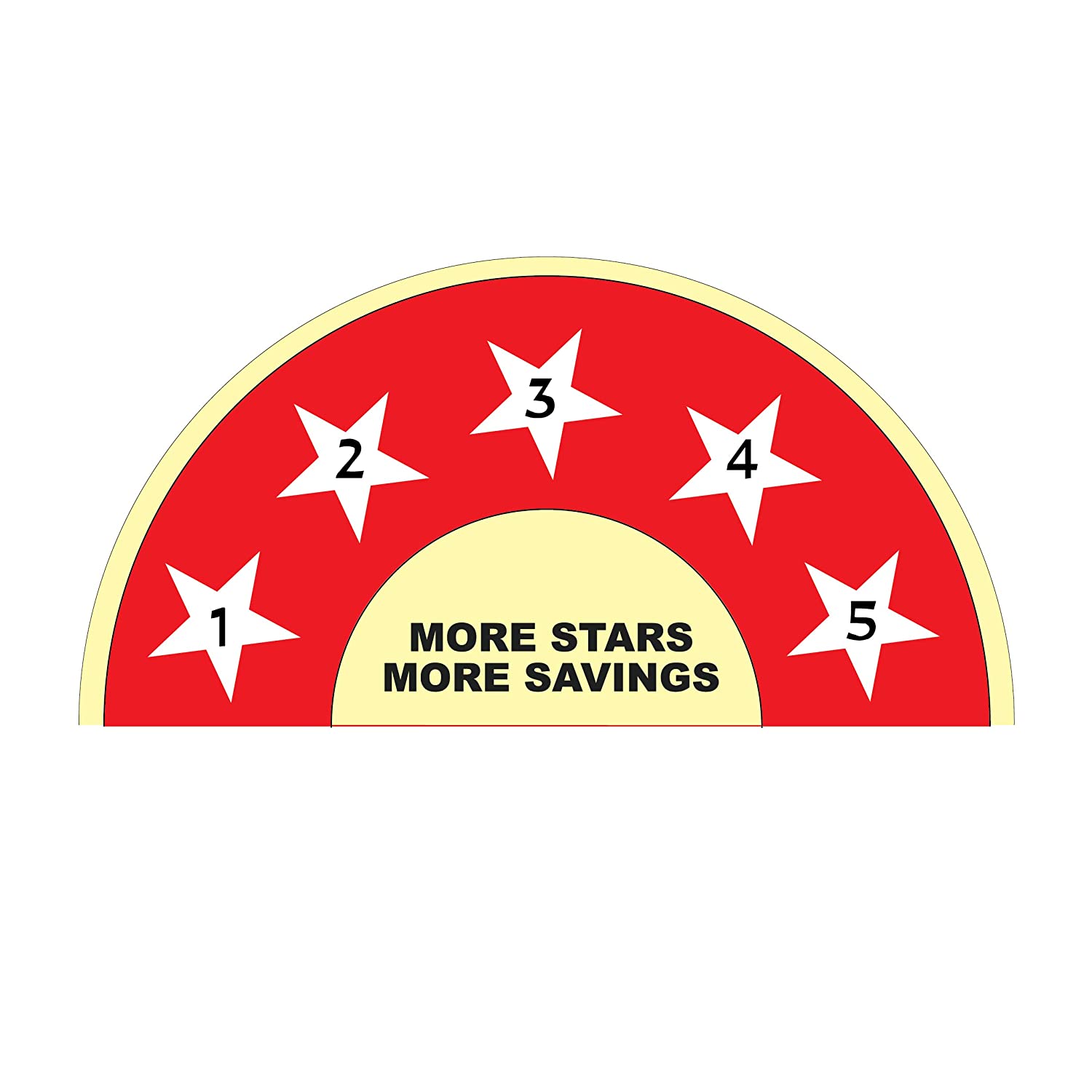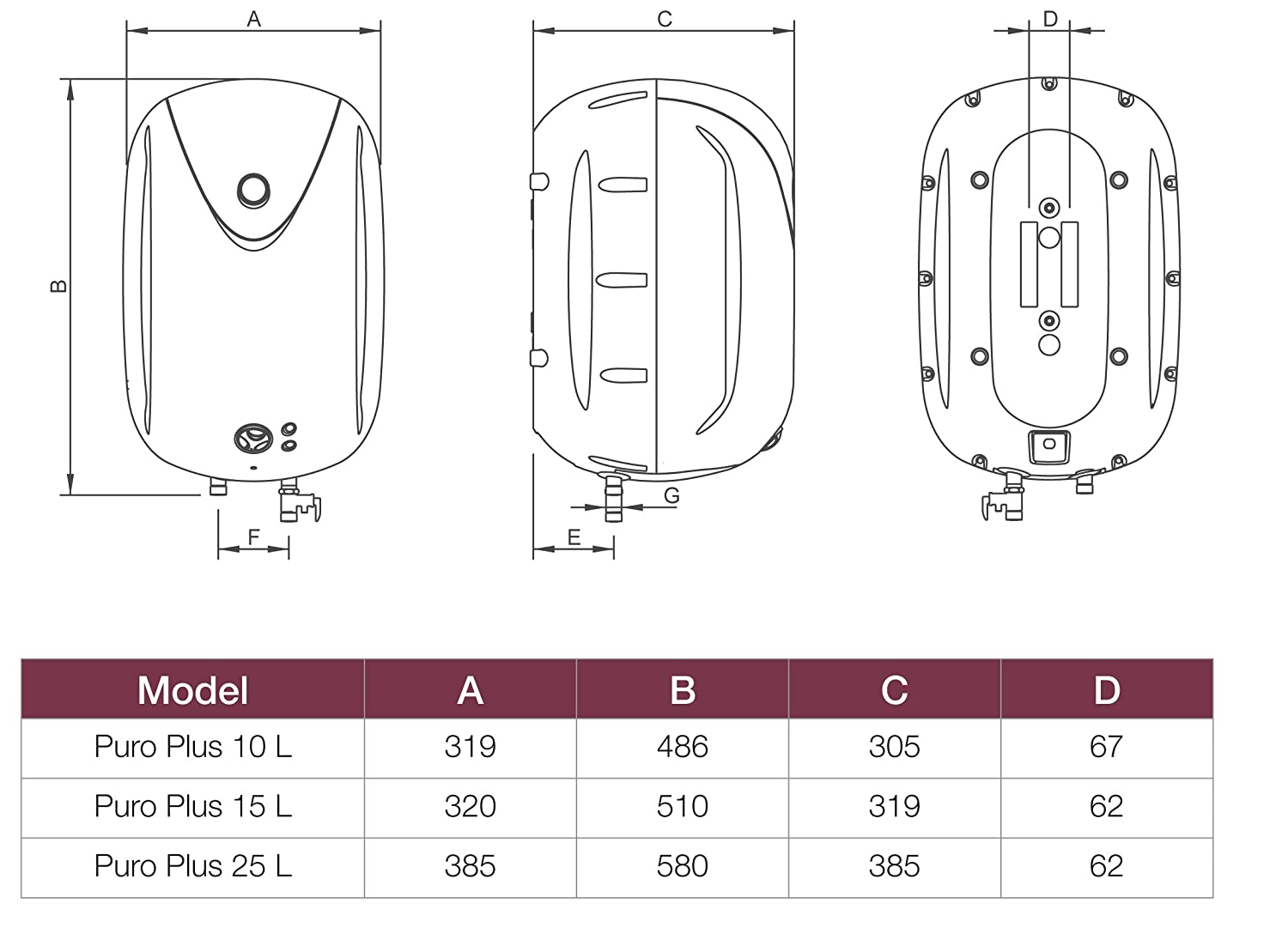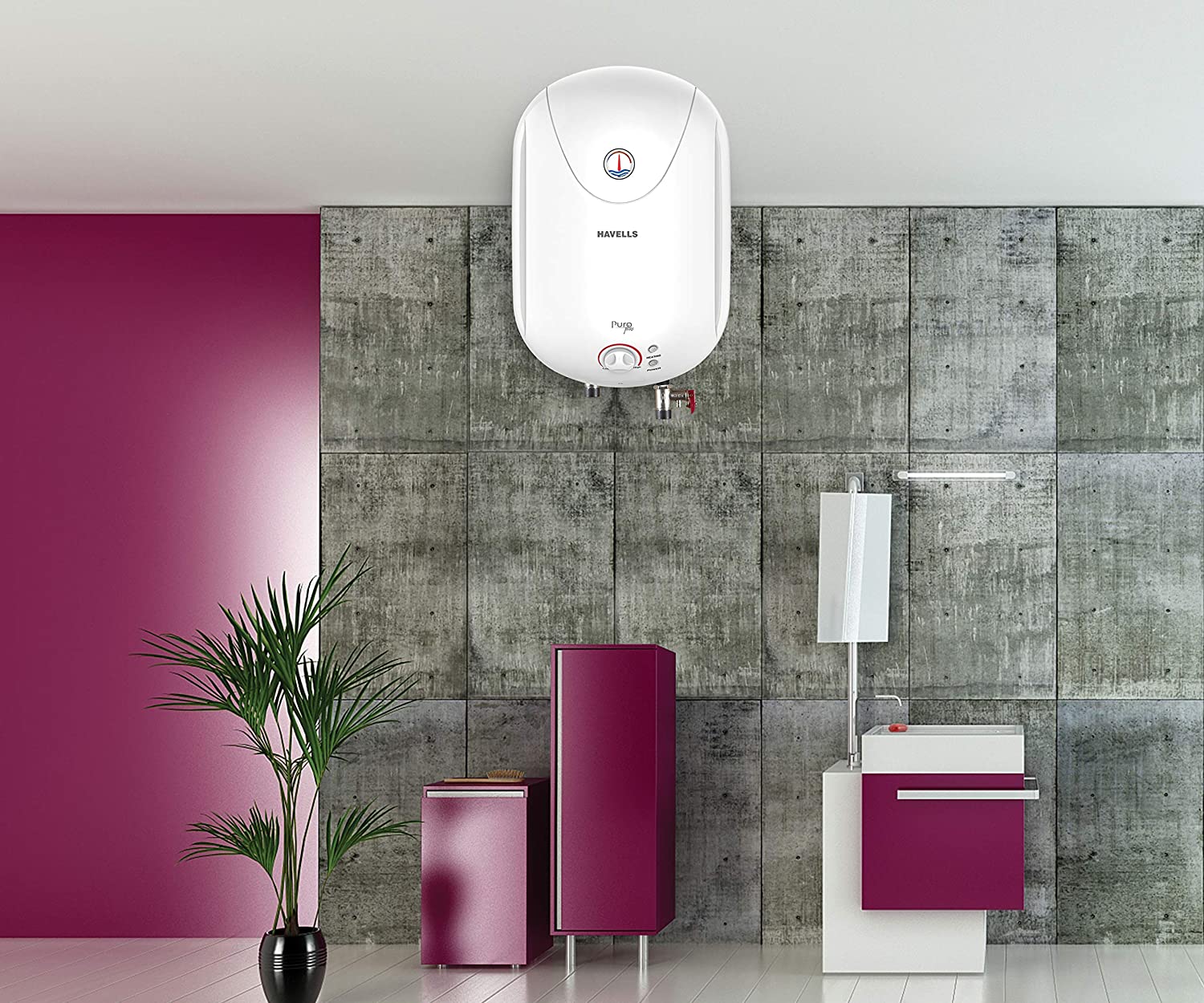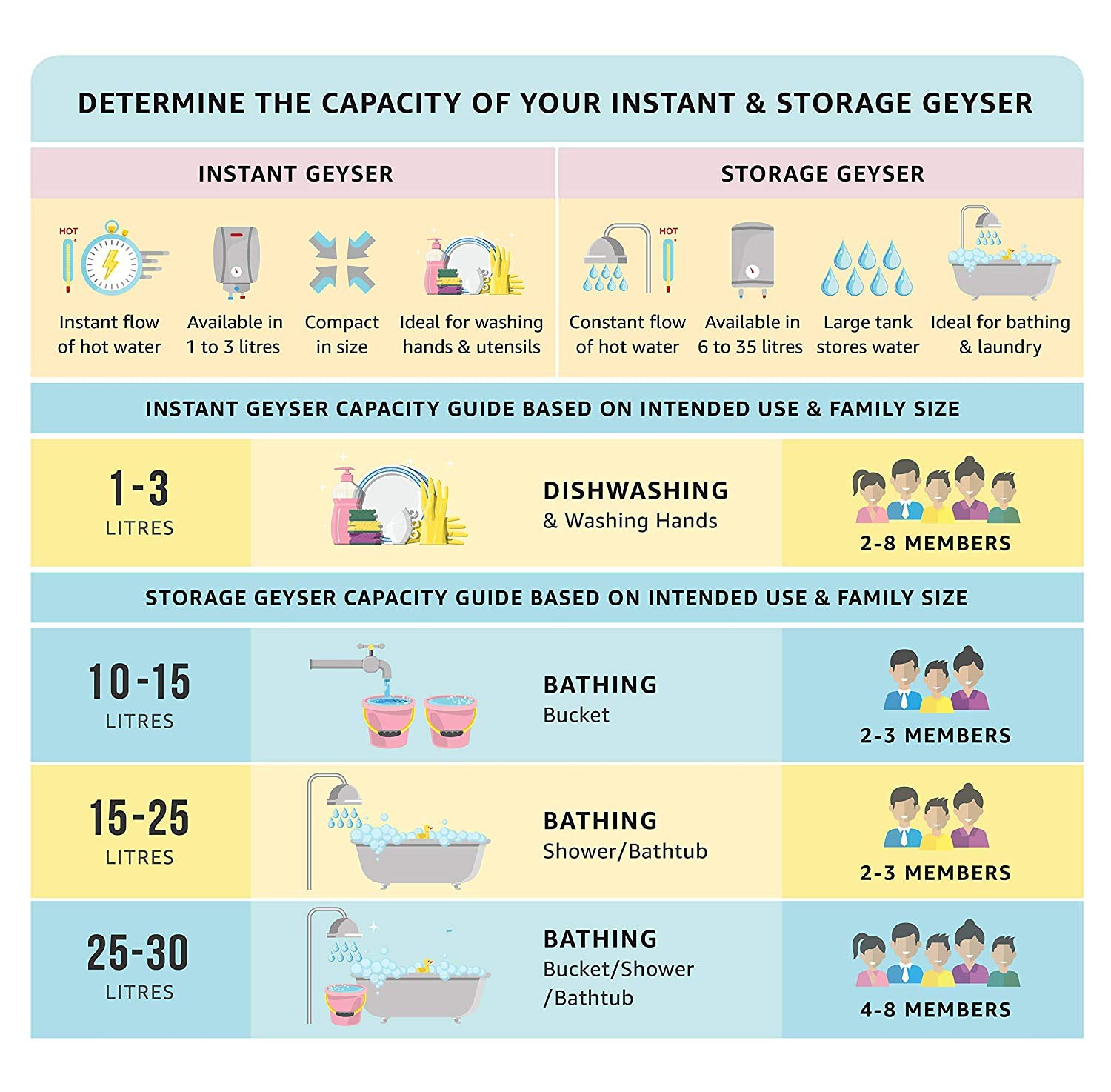 Havells Puro Plus 15 litre Storage Geyser (White)
HAVELLS GEYSER PURO PLUS 15 LTR WHITE
Feroglas Technology- The innovative feroglas TM technology in the inner container withstands hard water to give years of water trouble-free service
Incoloy heating element has excellent resistance to both oxidation and carbonization at high temperature
PUF Insulation - CFC free high density PUF insulation prevents heat loss
Warranty- 7 year warranty on inner container ; 4 year warranty on heating element ; 2 year comprehensive Warranty
Shock-Safe Plug
HAVELLS GEYSER PURO PLUS 15 LTR WHITE
India's first integrated shock-safe plug designed to prevent electric shocks by cutting off the power in case of current leakage.It is made of ultra-thick super cold rolled steel plates that provides higher resistance to corrosion resulting in longer life than standard inner tank designs. It can withstand a high-pressure rating of up to 8 bars.Incoloy glass-coated heating element offers superior heating performance with excellent resistance to both oxidation and carbonization at high temperature. It also resists corrosion and extends the lifespan of heating elements with minimal energy loss.Adjustment knob for setting the temperature conveniently.Suitable for high-rise buildings and pressure pump applications. The multi-function valve prevents pressure to increase beyond 8 bars.It avoids direct contact between
cold and hot water flow for faster heating and optimized energy saving resulting in 20 % more hot water output.Protects tank from internal and external pressure build-up.7 year warranty on inner container ; 4 year warranty on heating element ; 2 year comprehensive Warranty.
Feroglas Technology
The ultra-thick, super cold rolled steel plates of the inner tank of the Havells Puro Plus water geyser come with Havells innovative proprietary technology that helps the tank fight corrosion. This makes the tank resilient and durable. The build quality of the tank also allows it to withstand water pressure up to 8 bars.
Incoloy Glass-coated Heating Element
With excellent resistance to both oxidation and carbonization at high temperature, the Incoloy glass-coated heating element delivers a remarkable heating performance. The heating element is resistant to corrosion and is highly durable.
Adjustable Knobs
The geyser comes with adjustable knobs that help you set the "right temperature" as per your convenience.
8 Bar Pressure
If you are staying in a high-rise building or a place where pressure pumps are used to pump water, the Havells Puro Plus water geyser would be a great option to go for. It comes with a multifunction valve that prevents the pressure from increasing beyond 8 bars.
Whirlflow Technology
The Whirlflow technology is an innovative feature that does not allow direct contact between hot and cold water. This helps in faster heating of water in an optimized manner and thereby helps conserve energy.
Multifunctional Safety Valve
The multifunctional safety valve of this water geyser prevents the build-up of both internal as well as external pressure and protects the tank from any damage.
Shock-safe Plug
This water geyser comes with an integrated shock-safe plug that is designed to cut power supply in case of a current leakage and protects you from electrical shocks.
| | | |
| --- | --- | --- |
| Brand | | Havells |
| Model Name | | Puro Plus 5s 15ltr Sp Ivory-Swh |
| Capacity | | 15 L |
| Color | | Ivory |
| Type | | Storage |
| Mount Type | | Vertical |
| Shade | | Ivory, White |
| Star Rating | | 5 |