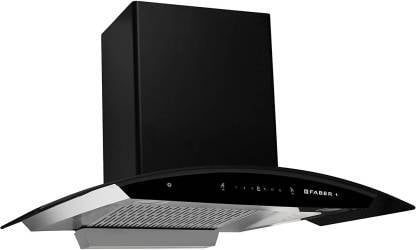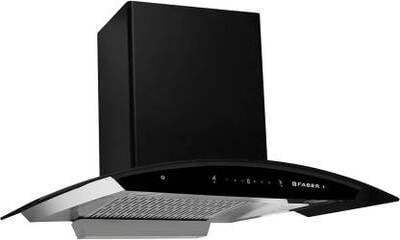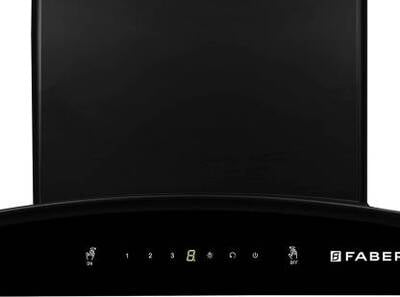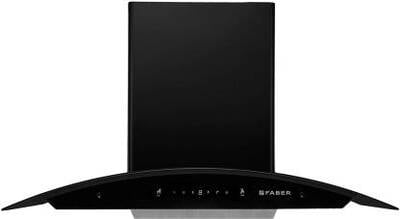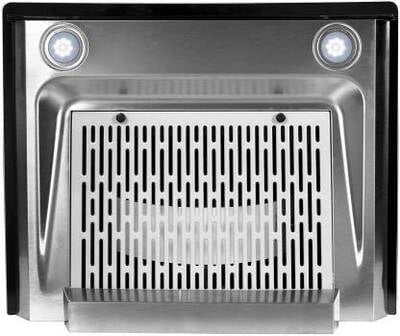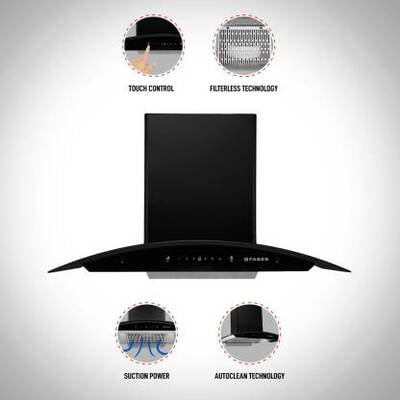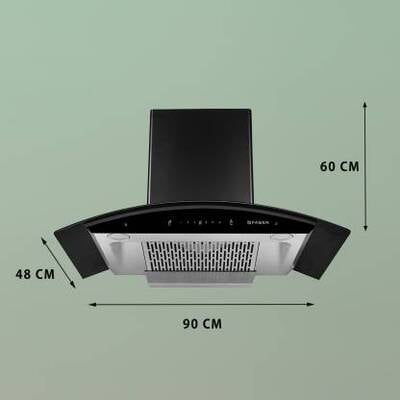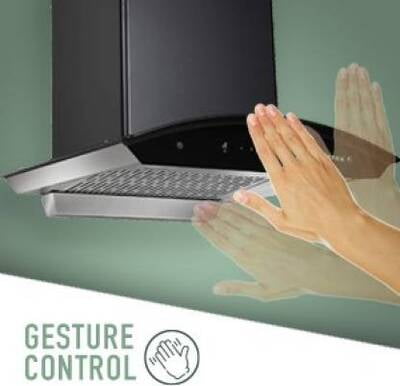 FABER HOOD EVEREST SC TC BK 90 cm Filterless, Auto Clean (Black 1200 CMH)
FABER HOOD EVEREST SC TC BK 90 cm Filterless, Auto Clean (Black 1200 CMH)
90 cm : Suitable for 4-5 Burners

1200 CMH

Filterless : No Filter used, instant auto-clean with heat/water on button press

Auto clean: Uses water/heat to auto-clean the collection chamber

Very effective in removing odor

7 Days Replacement Guarantee
FABER HOOD EVEREST SC TC BK 90 cm Filterless, Auto Clean (Black 1200 CMH)
With the Faber Hood Everest filterless chimney, you can confidently try your hands at cooking a variety of dishes at your home. This wall-mounted chimney's powerful suction capacity of 1200 cubic meters per hour (m3/hr) ensures
your kitchen is free from smoke and fumes. Moreover, this chimney's motion-sensing technology and touch control panel ensure that you can operate this appliance without much effort.
Auto-clean Feature
The Faber hood Everest chimney features a thermal auto-clean feature that helps you get rid of dirt and grime from this appliance with just a touch. The oil and other cooking residues are collected in the oil collector cup, making it easy to keep this appliance clean. Furthermore, the compact size of this kitchen hood makes it perfect to be installed in a small- or medium-sized kitchen.
Motion-sensing Technology
A wave of your hand is all it takes to control the operation of this chimney, thanks to the motion-sensing technology. Moreover, you can even use the touch-control panel to easily access and control this appliance's features.
Powerful Motor
Enjoy an efficient suction power as this chimney features a powerful motor. The suction power of 1200 cubic meters per hour (m3/hr) ensures smoke and fumes don't linger in your kitchen while you're cooking. It can even remove dust that is floating in the cooking area so you can eat healthy food.
Filterless Technology
Cleaning this chimney has never been simpler, as it does not come with any filters. This not only ensures a hassle-free cleaning experience but also cuts down on maintenance costs. The motor of this appliance is positioned in such a way that it offers a clear path for smoke and air to flow.
| | | |
| --- | --- | --- |
| In The Box | | Chimney :: Pipe :: Ducting Kit ::User Manual |
| | | |
| --- | --- | --- |
| Brand | | FABER |
| Model Number | | HOOD EVEREST SC TC BK 90 cm , 1200m3/hr,Filterless with Free Ducting Kit |
| Brand Color | | Black |
| Finish | | Black glass with Cylindrical Hood |
| Shape | | Curved Glass & Cylindrical Hood |
| Mount Type | | Wall Mounted |
| Material | | Stainless Steel with Powder Coating Hood |
| Air Suction Capacity | | 1200 CMH |
| Control Panel Type | | Touch & Gesture Control |
| Ductless | | No |
| Filter Type | | Filterless |
| Color | | Black |
| Speed Levels | | 3 |
| Filter Block Indicator | | No |
| Noise Level | | 58 dB |
Lighting Features
| | | |
| --- | --- | --- |
| In-built Lights | | Yes |
| Light Type | | LED |
| Dimming Feature | | Yes |
Power Features
| | | |
| --- | --- | --- |
| Phase | | Single-phase |
| Power Requirement | | 233 |
| Engine Power | | 180 |
Dimensions
| | | |
| --- | --- | --- |
| Height | | 60 cm |
| Width | | 90 cm |
| Depth | | 45 cm |
| Weight | | 18 kg |