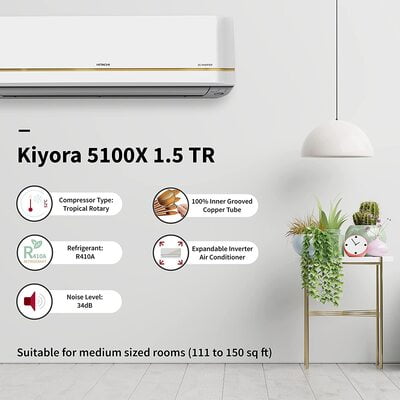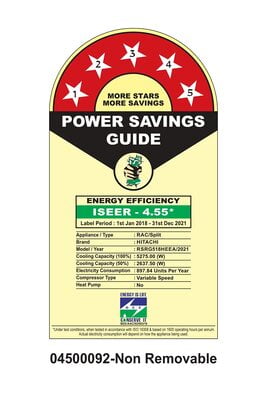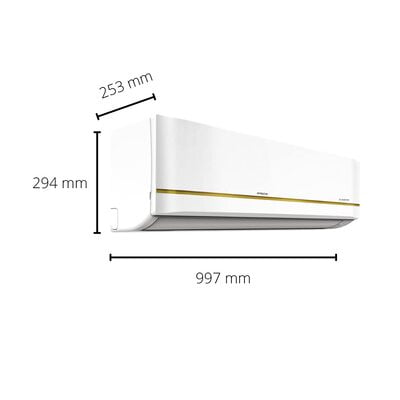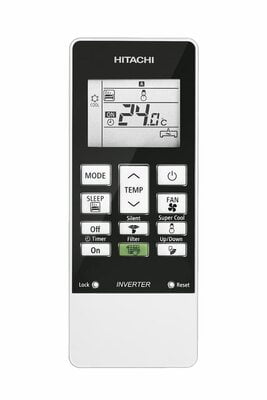 HITACHI Split AC 1.5Ton Inverter 5Star RSRG518HEEA
Get 100% genuine and authentic product
7 Days replacement guarantee
| | |
| --- | --- |
| Power Source | Corded Electric |
| Brand | Hitachi |
| Model Name | RSRG518HEEA |
| Special Feature | One Touch Silent Fan speed, Soft Dry, Super Cool, Auto Fan Speed, Fan Mode |
| Warranty Type | Extended |
About this item
Split AC with inverter compressor: Variable speed compressor which adjusts power depending on heat load.
1.5 Ton: - Suitable for medium sized rooms (111 to 150 sq ft)
Energy Rating: 5 Star: Best in class efficiency | Annual Energy Consumption (as per energy label): 897.84 units | ISEER Value: 4.55
Manufacturer Warranty: 2 years on AC, 10 years on Compressor, 5 years on Controller/PCB
Copper Condenser Coil: Better cooling and requires low maintenance
Key Features: Expandable Inverter: Hitachi's Expandable AC expands its capacity in adverse temperature conditions, it cuts down humidity level inside the room and achieves set temperature faster., Ambience Light: Introducing for the first time ever, an immersive display on the AC which helps you understand the ambience better and control the temperature more effectively., Filter Clean Indicator: A unique alert reminds you to clean the filter at regular intervals, ensuring powerful cooling all the time. Superfine Mesh Filter: Hitachi's unique Superfine mesh filter captures microdust particle and also offers hassle-free cleaning . Step less Compressor Control: Specially designed advanced microcontroller checks indoor and outdoor condition, and varies compressor speed seamlessly, thus offering uninterrupted cooling. 100% Inner Grooved Copper Tube: Hitachi's 100% inner grooved copper ensures faster cooling with its turbulent refrigerant flow that enhances heat transfer rate. SuperSlit Fins: SuperSlit fins of Hitachi AC have multiple slits that provide more heat exchange area and cools the room faster. Stabilizer Free Operation: Have compӏete protection from power fӏuctuation that ranges from 160V to 255V
Special Features: Tropical Design: Hitachi ACs are designed to keep you cool and work efficiently up to 52°C. Penta Sensor: Hitachi's intelligent Penta sensor technology with its advanced microcontroller offers perfect cooling even in extreme summer conditions, optimizes cooling in load variation and protects critical components of the AC.
Refrigerant gas: R410a - Environmental friendly - no ozone depletion potential
IDU dimension(l * b* h cms): (99.7 * 25.3 * 29.4 cms), ODU dimension (75 * 28.8 * 54.8 cms) & IDU (13 kg) & ODU (32.40 kg)
Included in the box: For Split AC : Indoor Unit, Outdoor Unit, Remote Control, User manual, 2 batteries
Hitachi Kiyora 5100X Inverter Split Air Conditioner
New Inspired Design for a new you
Fusion Line: Kintsugi, which means golden rejoining, is a traditional Japanese art form. It is a technique of transforming the ordinary into the extraordinary. This delicate design element can beautify any piece of work. Presenting Hitachi's Fusion Line, a gold-colored line that accentuates the pure white panel with its golden shine. So, you don't just mount an air conditioner, you add a piece of art to your wall.
Ambience Light: Awaken your senses with the comfort you desire. Enjoy in an environment where everything else falls in place as the temperature in the room is perfect! Introducing an immersive display on the AC with the highest level of craftsmanship and colors bold yet soothing that perfectly in-tune with your unique taste in temperature. Know your Ambience be it cold, comfort, or warm with Hitachi's first-ever Ambience light.
The Iconic Wave Design: A spectacular standard-bearer for all new generations of air conditioners. The artistic curve accentuates the aesthetics and complements the sheer white flat panel, making it blend effortlessly with the surroundings.
FEATURES
| | | |
| --- | --- | --- |
| | | |
| Ambience Light | | Expandable Inverter |
| Introducing for the first time ever, an immersive display on the AC which helps you understand the ambience better and control the temperature more effectively | | Hitachi's Expandable AC expands its capacity in adverse temperature conditions, it cuts down humidity level inside the room and achieves set temperature faster |
| | | |
| 100% Inner Grooved Copper Tube | | Stepless Compressor Control |
| Hitachi's 100% inner grooved copper ensures faster cooling with its turbulent refrigerant flow that enhances heat transfer rate | | Specially designed advanced microcontroller checks indoor and outdoor condition, and varies compressor speed seamlessly, thus offering uninterrupted cooling. |
| | | |
| Penta Sensor | | Tropical Design |
| Hitachi's intelligent Penta sensor technology with its advanced microcontroller offers perfect cooling even in extreme summer conditions, optimizes cooling in load variation and protects critical components of the AC | | Hitachi ACs are designed to keep you cool and work efficiently up to 52°C |
| | | |
| Filter Clean Indicator | | SuperSlit Fins |
| A unique alert reminds you to clean the filter at regular intervals, ensuring powerful cooling all the time | | SuperSlit fins of Hitachi AC have multiple slits that provide more heat exchange area and cools the room faster |
| | | |
| | | |
| | | |
| --- | --- | --- |
| Brand | | ‎Hitachi |
| Model | | ‎RSRG518HEEA |
| Energy Efficiency | | ‎5 star rating |
| Capacity | | ‎1.5 Tons |
| Annual Energy Consumption | | ‎897.84 Kilowatt Hours |
| Noise Level | | ‎34 dB |
| Installation Type | | ‎Split System |
| Part Number | | ‎RSRG518HEEA |
| Special Features | | ‎One Touch Silent Fan speed, Soft Dry, Super Cool, Auto Fan Speed, Fan Mode |
| Colour | | ‎White |
| Wattage | | ‎1540 Watts |
| Included Components | | ‎Installation Kit / Manual/Remote / unit |
| Batteries Included | | ‎Yes |
| Batteries Required | | ‎Yes |
| Battery Cell Type | | ‎Zinc Carbon |
| Manufacturer | | ‎Manufacturer |
| Country of Origin | | ‎India |