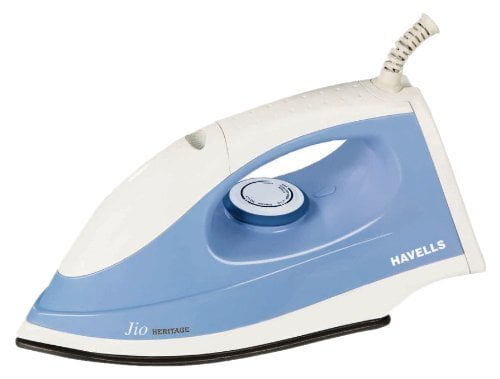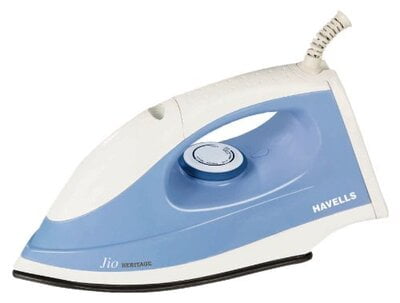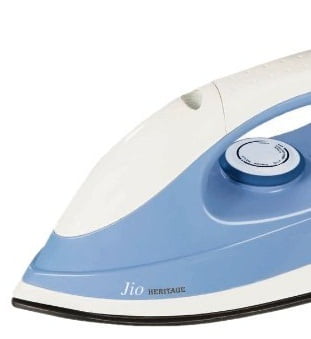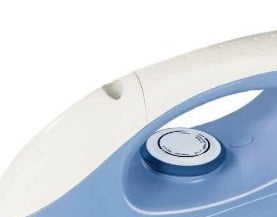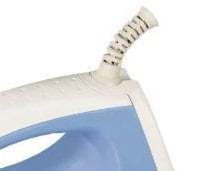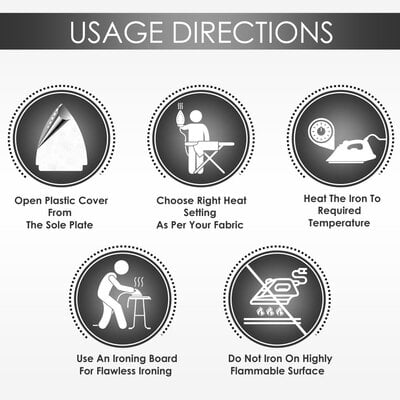 HAVELLS DRY IRON JIO BLUE 1000W
Non-returnable
HAVELLS DRY IRON JIO BLUE 1000W
Cord winder
Indicator light on handle
360 degree swivel cord for effortless maneuvering
Full length button groove for maximum reach
DuPont registered American heritage coated sole plate for smooth gliding
Easy grip temperature control dial for selection of different fabrics
Power: 1000 watts; Operating voltage: 240 volts
Warranty: 2 years on product
HAVELLS DRY IRON JIO BLUE 1000W
Smart, Ergonomically designed Dry Iron
The Havells dry iron makes everyday ironing quick and easy. It comes with multiple user-friendly features to help you get your ironing over and done with, in no time. This sleek blue and white iron is designed for convenience. It features a sturdy base with a heel rest, so your iron rests safely on the ironing board when in operation. You can seamlessly adjust the temperature of this Havells Jio Heritage dry iron according to the fabric you are ironing using the large fabric selector knob.
The Havells Jio Heritage blue dry iron consumes 1000W of power to provide you with optimal performance. Your iron features a 360 degrees swivel cord so you can comfortably iron at all angles. With a temperature indicator light on the top, this iron tells you when it is ready for ironing. Moreover, the light goes off once the desired temperature is achieved. Featuring a teflon-coated sole plate, this dry iron ensures smooth and safe ironing even of your delicate clothes. Plus, it features the full length button groove that makes ironing easy even in hard-to-reach places.
Brand: Havells
Product Type: Dry iron
Collection: Jio Heritage
Colour: Blue and white
Teflon non-stick coated sole plate
Rated Power Consumption: 1000W
Additional Features: 360 degrees swivel cord, pilot button on top, easy-to-move fabric selector knob
Jio 1000-Watt Dry Iron by Havells
Keep your Clothes Crease-Free
Keep your clothes crease-free with Havells that has brought for you a user-friendly dry iron that makes ironing surprisingly easy. It has an ergonomic design, a 360-degree swivel cord and a temperature dial for seamless ironing. To be precise, it has all that is needed for good ironing.
Important Features
Cord winder
Indicator light on handle
Teflon classic PTFE coated sole plate
360 swivel cord
Full length button groove
Easy grip temperature control dial
| | | |
| --- | --- | --- |
| | | |
| Features a Cord Winder | . | Handle has a Light Indicator |
| This iron has a cord winder for the safety of the electric wire. It prevents the cord from getting entangled, twisted and damaged. The cord winder allows easy storage of wires and cords. | | The light indicator on the handle of this iron helps you comprehend whether the iron has heated up or not. Once it switches off, it is an indication that the iron has reached its highest point of heating. Thereafter, it begins to cool down. |
| | | |
| --- | --- | --- |
| | | |
| Teflon Classic PTFE Coated Sole Plate | . | 360 Swivel Cord for Flexibility |
| The Teflon classic PTFE coated sole plate is a thick, triangular shaped slab. It forms the base of this iron. The double layered sole plate smoothly drifts along the cloth safely. | | This Havells dry iron features a 360-degree swivel cord that offers flexibility as you manoeuvre the iron along the cloth. It reduces the effort you put in ironing and makes the act unchallenging. |
| | | |
| --- | --- | --- |
| | | |
| Full-Length Button Groove | . | Temperature Control Dial with a Good Grip |
| The full-length button groove featured in this iron helps you to iron your clothes without being obstructed by the buttons. The button smoothly fits into the groove during the ironing process. | | The temperature control dial is essential for regulating the amount of heat you require while ironing. This iron comes with a dial that has a fine grip and helps you control the temperature effortlessly. |
Havells Dry Iron JIO Blur 1000W Information:
| | | |
| --- | --- | --- |
| Product Dimensions | | 0.1 x 0.1 x 0.1 cm; 890 Grams |
| Item model number | | Jio Heritage |
| GSM frequencies | | 50 Hz |
| Special features | | Easy grip temperature control dial for selection of different fabrics |
| Other display features | | Kitchen |
| Color | | Blue |
| Whats in the box | | DRY IRON |
| Manufacturer | | Havells |
| Item Weight | | 890 g |