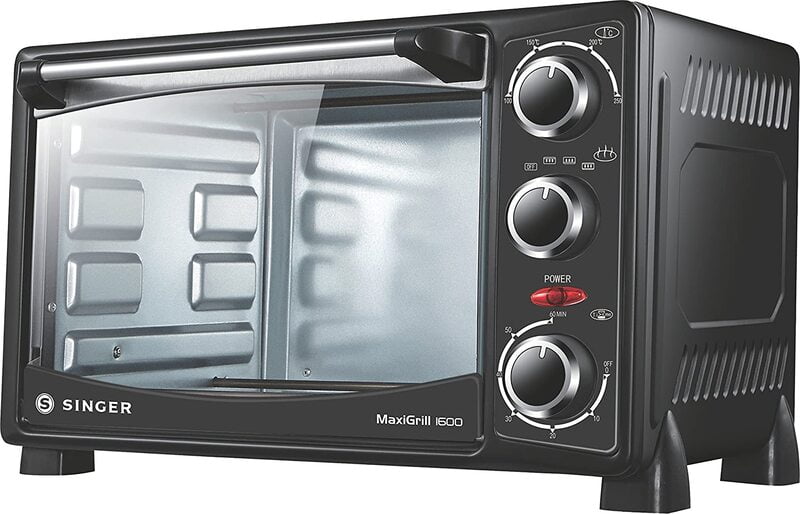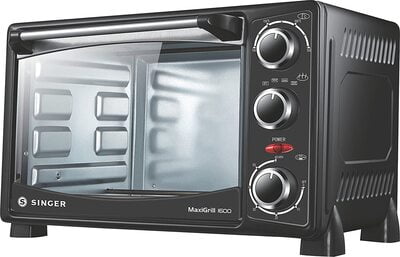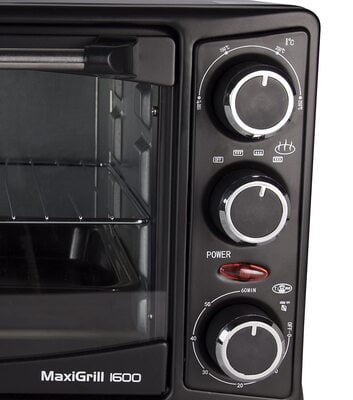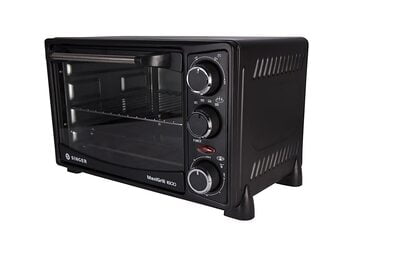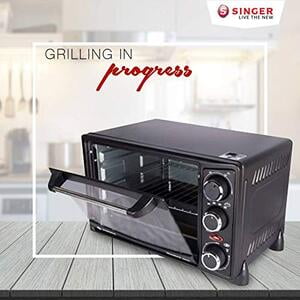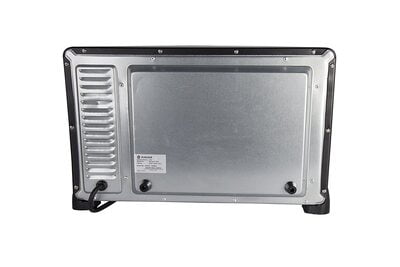 Singer MaxiGrill 1600 OTG 1400 Watts 16 litres SOT1600MBT With Convection oven toaster griller
1400 Watts
16 Litre Capacity
0-60 Minute Timer
Convection Function
Broad & Sturdy Feet
Automatic Thermostat
Dimensions: 47 (L) x 36 (W) x 35 (H)cm
MaxiGrill OTG Oven
Baking, grilling, roasting, defrosting or barbeque - do it all with the Singer MaxiGrill. Don't compromise on taste, utility or time. Designed to handle multiple cooking options, this oven will bring out the chef in you. This product is lightweight, so you can move it around easily, and it's dimensions ensure that too much space.
Make baking simple, easy and fun with the Singer MaxiGrill OTG oven.
1400 Watts OTG with 16 ltr Capacity & Stainless Steel Handle

The MaxiGrill boasts a 16 litre capacity, which gives you plenty of space to make various dishes (enough for 2-3 people).

0-60 Minute Timer with 7 Stage Functions
The timer function, which runs up to 60 minutes and 7 stage functions along with the heat selection knob should be suitable for most dishes.
Automatic Thermostat
The automatic thermostat ensures that the temperature is maintained at near constant, to ensure that your cooking and baking gives you even, tasty results.
Enamelled Baking Tray with Wire Rack & Tong
The baking tray is enamelled, which ensures long life. A wire rack and tong is provided, so you can bake and handle hot items with ease.
Convection
This method cooks food by blowing hot air past it. This helps the oven operate at a lower temperature, yet cook food more quickly. Since the air is circulated, heat is distributed evenly, which leads to even cooking without hot spots. This method is best suited for roasting meats and vegetables, baking pies or pastries (creates more lift in the dough), when baking lots of cookies (you can do more than one tray), toasting or dehydrating.
This is just one of the methods of cooking that you can use in the Singer OTG.