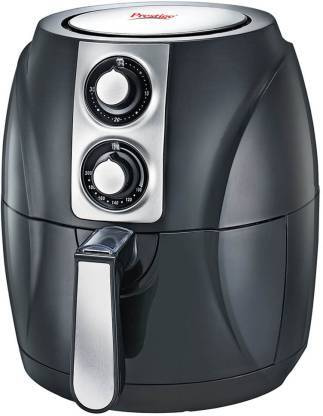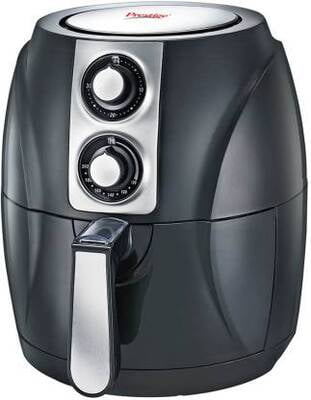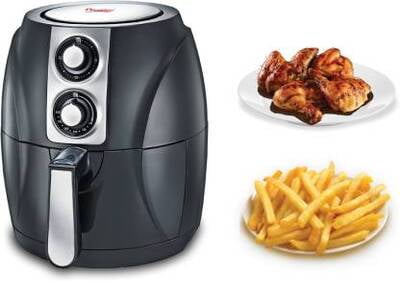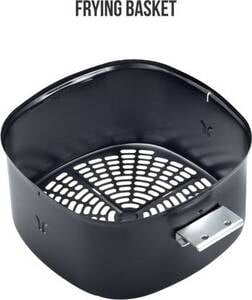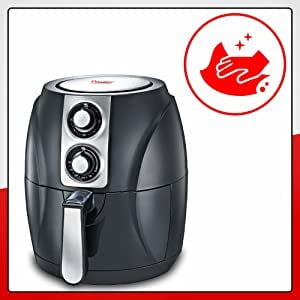 Prestige Air Fryer PAF 4.0 Mechanical Control
Content: Prestige Air Fryer Paf 4.0
Net Quantity: 1 Unit ; Controls: Timer Control ; These features are easy to operate and they help save power. Easy Maintenance The removable frying basket is easy-to-clean and maintain
Voltage: 230V; Wattage: 1400W
Type: Air Fryer
Cooking capability: Fry, grill, roast and bake ; Temperature and Timer Control, Specially Designed Basket, Filter and Safety Button
Capacity: 2.2 litres
Includes Air Fryer
Prestige Air Fryer – PAF 4.0
Less oil is more health. Isn't it? Presenting Prestige air fryer, the healthy alternative to fried food. Enjoy oil free chips, snacks, meat etc. without guilt. What more? The food tastes exactly like the oil fried foods you are so familiar with. The attractively styled Prestige air fryer allows you to fry, grill, bake and roast in a healthy and oil freeway. With its advanced features such as 30 minutes timer, easy to use controls, easy to clean, carrying handle for portability and accessories .It comes with 1400 watts power and 2.2 litres capacity. The prestige air fryer is a healthier alternative in your kitchen.
How it Works?
The Prestige 4.0 2.2 litres air fryer uses hot air to prepare low fat meals. The air fryer makes use of hot air circulation very vigorously around the food content placed in the basket. The fryer uses a grill and a fan to blast hot air around the food with high speed. This super-heated air is circulated to all sides at once in order to heat and cook the food.
Frying Basket with Safety Button

The specially designed high capacity frying basket with high quality non-stick coating, allows hot air to circulate rapidly, such that the food is cooked evenly and faster with less oil. It comes with safety switch which automatically shuts off the air fryer if the basket is pulled out during the cooking process and starts from the same point when it is inserted back, thus making it safe and user friendly.
Oil and Smoke Filter
It is aesthetically designed with oil and smoke filter which makes your kitchen free from odour by absorbing excess oil and smoke. Also it keeps the appliance free from oil and easy to clean and maintain.
Multipurpose
This air fryer can perform various operations like fry, grill, roast, bake and more by circulating hot air in the basket. The air fryer cooks with no oil or very less oil thus making you healthier.
Temperature and Timer Control
It comes with temperature and timer rotary control which helps to set timer for up to 30 minutes and temperature from 100 to 200 degrees, both are easy to operate and use, thus making it efficient and saves power.
Easy Maintenance
The frying basket is specially designed for better air circulation. The basket is removable and it is easy to clean and maintain. Thus making it user friendly.