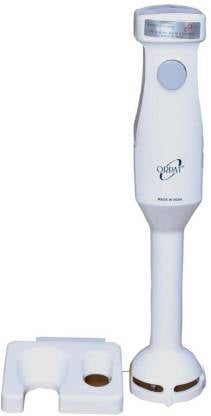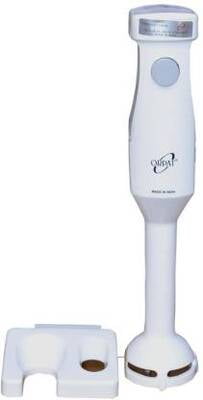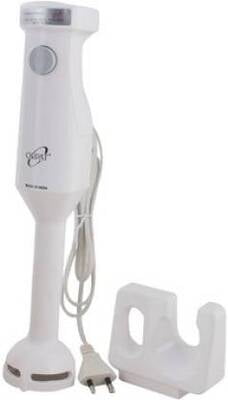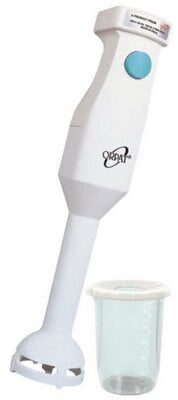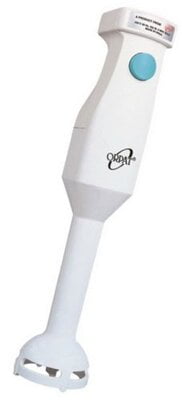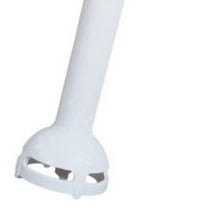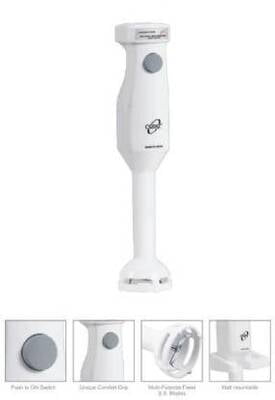 Orpat HHB-100E WOB 250-Watt Hand Blender (White)
Non-returnable
Orpat HHB-100E WOB 250-Watt Hand Blender (White)
Unique comfort grip
Sleek and strong and motor with 18000 RPM
Easy to store and wash with smooth and safe switch
Elegant design and wall mountable
Long power cord with unbreakable poly carbonate bowl
Multi-purpose fixed stainless steel blade
Warranty: 1 year on product
Orpat HHB-100E WOB 250-Watt Hand Blender (White)
Simplify Your Blending and Mixing Tasks
This blender by Orpat is powered by a heavy duty 250W motor that will blend and mix anything in seconds. The grip of this blender is super comfortable, making the Orpat HHB-100E WOB hand blender easily to operate. For easy and quick beating, churning and whipping, Orpat brings to you this elegant blender. Designed with both comfort and style in mind, this blender is also easy to clean and maintain.
Powerful, Compact and Stylish
With a 6 speed function, use this blender to crush and churn vegetables and fruits in a jiffy as it is equipped with a 230-watt motor and super sharp stainless steel blades. The ergonomic handle and trendy design makes it easy to control this tool. This blender can also be mounted on a wall and because of its compact size, it takes very little space in your kitchen. It is also extremely light and handy.
Performs Tasks Relentlessly
As this blender comes with a heavy duty motor, it is quick to blend and mix. This blender by Orpat will also help save your electricity bill as it is extremely energy efficient. Enjoy hazard-free and healthy cooking with the Orpat HHB-100E WOB 250-Watt hand blender.
Orpat HHB-100E WOB 250-Watt Hand Blender (White)

Hand blenders are handy as they help in faster completion of our daily chores. The Orpat HHB-100E 250watt hand blender is a great appliance to simplify your daily mixing and blending tasks, whether it is blending a smoothie for breakfast or mixing dough for baking. This Orpat hand blender is powered by a heavy duty 250W motor that performs all tasks relentlessly and quickly.
The extremely comfy grip is another added advantage as it makes it easy to handle. This blender is also energy efficient, allowing you to save on your power bill.
Product Details:
- Colour: White
- Material: Stainless Steel
- Power: 250w
- Operating Voltage: 230v
- Power Cord Length: 2m
- Additional Features: 18000rpm, Wall Mountable with a Safe Switch
| | | |
| --- | --- | --- |
| | | |
| Save Time and Money | . | Easy to Clean |
| Fancy a smoothie? Or how about guacamole? From drinks to sauces to soups, this lil guy does it all. It can replace a blender for many jobs while be much easier to clean. | | As the all the washable parts easily detach from the motor, it is much easier to clean. You could remove the slip grips before washing in the dishwasher, safety! |
| | | |
| --- | --- | --- |
| | | |
| Stylish Design | . | Stainless Steel Blade |
| The sleek, contemporary style with ergonomic handle and control switch feels comfortable in your hand and makes operation quick and easy. | | Featured with super sharp stainless steel blades that grinds & blends every little particle perfectly leading to grant you amazing blending results. |
Compact Size
This hand blender can be easily dismantled and its parts can be quick cleaned. This wall mounted hand blender is lightweight and compact and takes less space on your kitchen shelf. As it is light, you can also easily control and use it for extended durations in the kitchen.