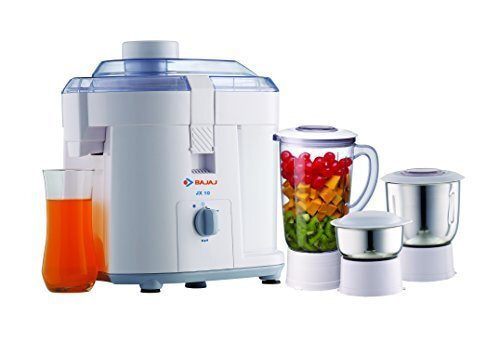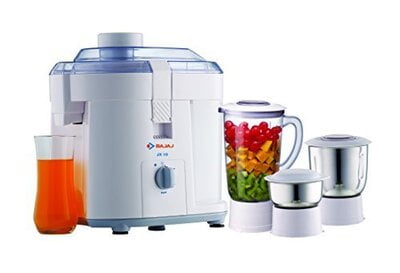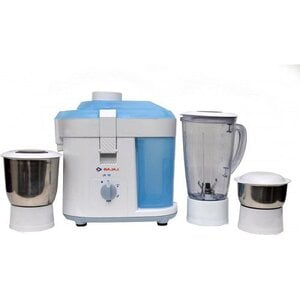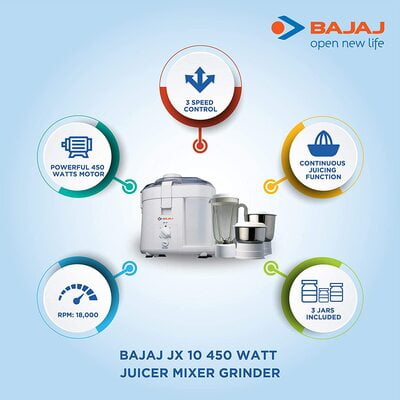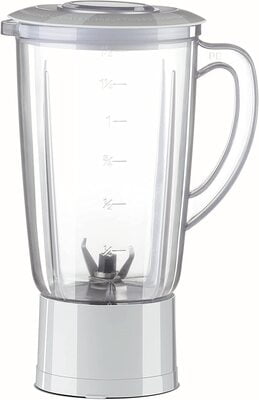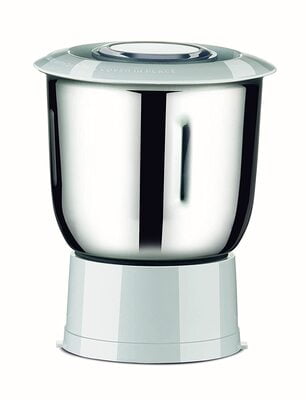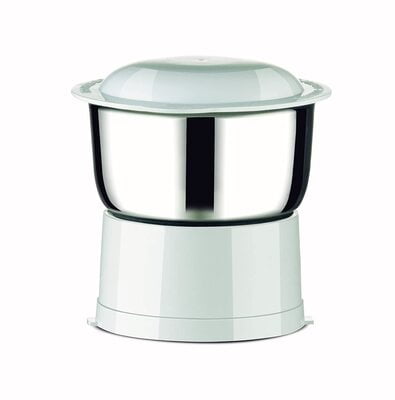 Bajaj JX 10 Juicer Mixer Grinder
Sturdy 450W motor with 5 year Warranty
1.5L Unbreakable polycarbonate liquidising jar
0.3L Stainless steel chutney jar
ABS Jar handle design with fluidic design
2 year Warranty on product

With 3 jars for liquidising, grinding and making chutney
1L Stainless steel grinding jar
3 speed control and pulse function
Overload protector for motor safety
Equipped with the Right Features

Want to efficiently manage all your kitchen chores? Looking for a versatile appliance to help you with that? Bring home the Bajaj JX 10 450-Watt Juicer Mixer Grinder online from dillimall.com. This user-friendly ABS plastic and stainless steel juicer mixer grinder has been designed to multi-use with great performance. It will enable you to effortlessly blend, grind and juice depending on your specific needs.
Handles All Your Grinding and Mixing Chores with Ease
Enjoy the process of cooking for your loved ones with the Bajaj JX 10 450-Watt Juicer Mixer Grinder. This one-of-a-kind juicer mixer grinder has a sturdy 450Watt motor which is powerful and reasonable. It has two jars for liquidizing and grinding. The blades of the grinder are made of stainless steel and are very sharp to grind all types of food items. All the lids of the jars are made with poly-carbonate which makes them unbreakable, and gives them a long life.
Safe and Hygienic to Use
The Bajaj JX 10 450-Watt Juicer Mixer Grinder has a stylish design with a strong body. While the mixer grinder will reduce your cooking time and assist you in making nutritious and delicious food, the juicer will help you make healthy juices from fresh fruits. The appliance comes with three speed controls and pulse function, allowing you to adjust speeds specific to your requirements. Loaded with additional features, it will raise both your kitchen comfort and efficiency to another level.
Bajaj JX 10 450-Watt Juicer Mixer Grinder

Powerful Performance and User Friendly Operation
To match all your cooking needs Bajaj brings you an amazing cooking appliance. Bajaj JX 10 is easy to operate juicer mixer grinder and can be used for multiple purposes. The appliance uses 450 watts of power to provide you with an efficient performance. The Bajaj juicer mixer grinder is equipped with jars made from poly-carbonate and stainless steel material capable of grinding all your favourite chutneys and batter for idlis, dosas and a host of Indian delicacies. A must-have kitchen appliance!
| | | |
| --- | --- | --- |
| | | |
| Powerful 450 Watt Performance | | Easy to Access Knob |
| Featured with 450 watt silent motor which is capable of grinding hardest of fruits easily & quickly. No more disturbance while you grind spices, chutney or prepare juices & batter. | | The Bajaj JX Juicer mixer grinder is featured with easy to access forefront control panel. You can easily operate the device hassle free. It has a speed selector knob that can be used to control the speed of the grinder and juicer. This option allows the user to get the exact consistency that they desire. |
| | | |
| | | |
| 3 Multipurpose Jars | | Online Juicing |
| To meet all your grinding & juicing requirements, the Bajaj JX comes with three multi-purpose jars. It includes liquidizing jar with the capacity of 1.5 ltrs, dry grind jar with the capacity of 1 ltr and one chutney jar with the capacity of 0.4 ltr. | | No more mess!! With online juicing you can easily remove the pulp collector while the juicing operation is going on. The container collects all the pulp without creating any mess. |
| | | |
| | | |
| Super Sharp Blades | | Multi-Purpose |
| Featured with super sharp stainless steel blades, this Bajaj juicer mixer grinder is capable of grinding fruits & vegetables to its core resulting in smooth fine mixtures every time. | | The Bajaj mixer grinder is multi-purpose appliance that is capable of grinding, juicing & mixing. This juicer mixer grinder will make it easier for you, to extract juice from various types of fruits, to grind spices & to prepare chutney & batter!!! |
Can be used as a mixer grinder to handle all your tough grinding and mixing chores
Warranty: 2 years on product
Power: 450 watts
Please contact_us on: [ 18001025963 ]
3 speed control with incher for momentary operation
Transparent liquidizing jar
Stainless steel grinding jar
Inbuilt pulp container
Easily removable and washable strainer/cutter
Spatula for easy removal of mix and changing of blades
Motor overload protector
Can be used as a mixer grinder to handle all your tough grinding and mixing chores
Warranty: 2 years on product
Power: 450 watts