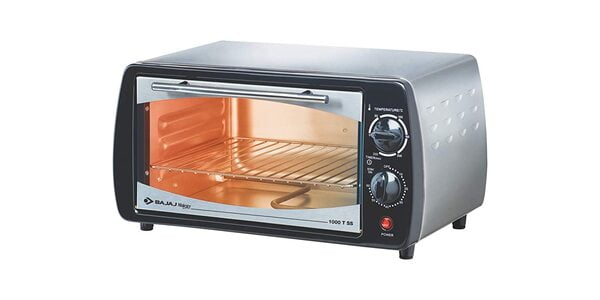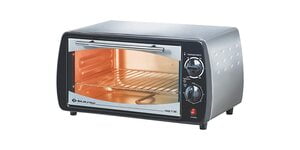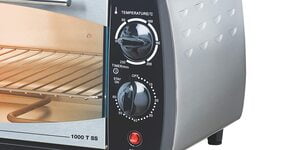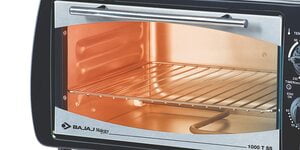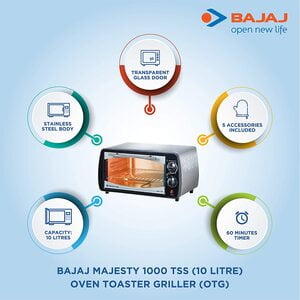 Bajaj Majesty 1000 TSS 10-Litre Oven Toaster Grill
Capacity: 10, Suitable for 2-3 people

Cooking capability: Baking, Grilling, toasting

Product Dimensions(H x W x D): 41cm x 36cm x 24cm , Warranty: 1 year

Wattage: 800W ; Temperature Control Range: 100-250 degree C ; Maximum Timer Limit: 60 min ; Power Requirement: 230 Volts, AC , 50 Hz

Includes Oven toaster grill, Cooking Tray, Tong and Pizza Tray ; Finish: Rust Resistant Steel ; Chamber Light: Yes ; Warming Function: Yes
Product description
Want to shift from the conventional ways of cooking? Then buy the Bajaj 1000 TSS 10-Litre Oven Toaster Grill online from Dillimall.Com India and stir up delicacies in no time at all, without breaking your budget. Whether you want to use it for cooking a roast or defrosting leftovers, this oven will serve as your loyal friend in the kitchen. You can enjoy fireless cooking on the appliance and make sure that you are free from all potential fire hazards and are safe in your kitchen.
Makes Cooking Easy and Enjoyable
The Bajaj 1000 TSS 10-Litre Oven Toaster Grill comes with accessories like a baking tray for your cakes and cookies, a grill rack and a set of skew rods to make juicy kebabs, a pair of tongs for ease of use and a crumb tray for easy cleaning. With a cooking capacity of 10 litres, it is a good choice for nuclear families and lets you serve yummy treats in less time. When it comes to your baking, toasting and grilling needs, this OTG delivers adequate performance and proves to be energy efficient too. The oven is not only user-friendly, but its stainless steel material also makes it easy to clean after every use. You can gently wipe it with a damp cloth after you are done with your cooking.
Saves on Both Time and Energy
With the Bajaj 1000 TSS 10-Litre Oven Toaster Grill, you will have the convenience of heating right at your fingertips. The OTG comes with thermostat which is ideal for defrosting your frozen meals and warming your food. If you are worried about your food getting burnt or overcooked when kept unattended, the 60-minute timer in this oven will help you. Manipulate the timer easily as per your requirements and select the ideal setting for the delicious kebab or cake that you are preparing. And the perfect settings for warming your food will assist you whenever you want to enjoy a warm meal.
Adds Elegant and Safety to Your Kitchen
The Bajaj 1000 TSS 10-Litre Oven Toaster Grill has an elegant look with a metallic finish in silver, which will blend easily with the modern décor of your kitchen. The stainless steel body and cavity material makes this machine long lasting and rust free. Designed for extra safety, the stainless steel material protects against electric shocks, ensuring you are perfectly safe in your kitchen. As convenience features, it comes with an indicator, chamber light, heat-resistant handle and two knobs for auto-cook menus. With the see-through door, you don't need to open the door numerous times to check the food that's getting cooked. The turntable ensures uniform cooking from all angles.
10 Litres Capacity
This OTG comes with a storage capacity of 10 litres is compact to fit anywhere in your kitchen.
Stainless Steel Body
The stainless steel body and cavity material makes this machine long lasting and rust free.
5 Accessories Included
This OTG comes with 5 Accessories: Grill Tray, Baking Tray, Crumb Tray, Extra Pizza Tray, Tongs for baking/ grill tray.
60 Minutes Timer
With a 60-minute timer, this OTG enables you to control your cooking requirements. The built-in timer sends you a notification alert once the cooking process is complete.
About Us
Eight Glorious decades! Bajaj Electricals is one of the oldest companies that has been dedicatedly working towards innovations that simplify human life. With a business portfolio that spans across myriad verticals – right from Consumer Products (Appliances, Fans, Lighting) to EPC (Illumination, Power Transmission and Power Distribution), we also have a strong presence in premium home appliance and cookware segments, with brands like Morphy Richards and Nirlep.