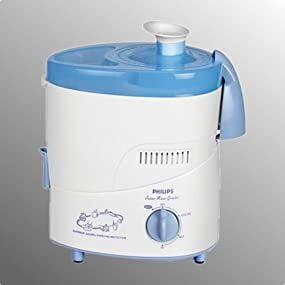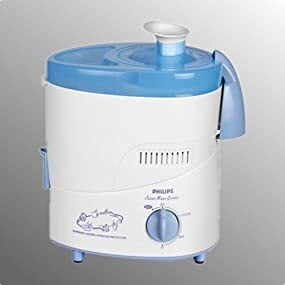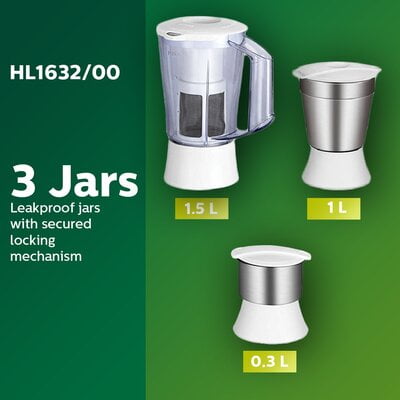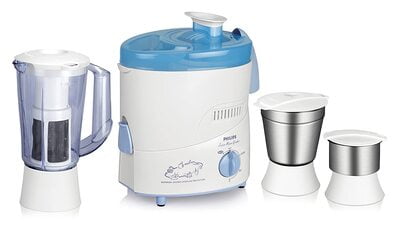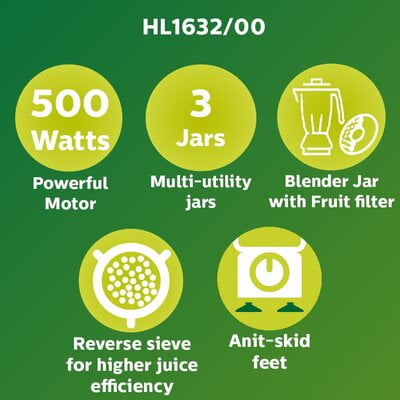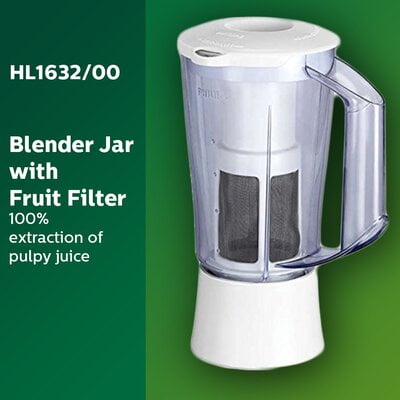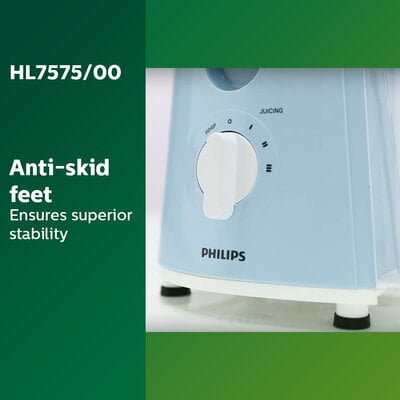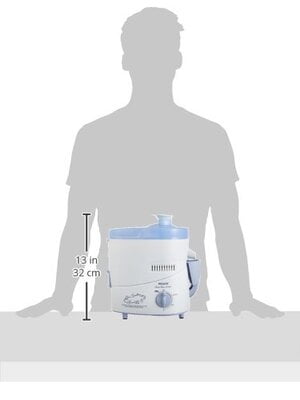 Philips HL1632 500-Watt 3 Jar Juicer Mixer Grinder with Fruit Filter
Philips HL1632 500-Watt 3 Jar Juicer Mixer Grinder with Fruit Filter
Healthy juice made easy
The Philips all-in-one juicing, mixing and grinding solution delivers maximum juice output with super processing performance. This juicer mixer grinder with 500 watt of power makes preparing healthy and delicious meals, surprisingly easy!
Philips HL1632 500-Watt 3 Jar Juicer Mixer Grinder with Fruit Filter
Maximum juice without the fuss Reverse spiral sieve for maximum extraction Unique micro mesh filter for maximim juice extraction Ease of Use Compact design for less storage space Easy to pour and store in separate chamber with spout Fruit filter for seeds and skin separation All in One Juicing and processing solution Blender jar with filter for soft fruits Centrifugal juicer for hard fruits Multipurpose jar for grinding, mixing and pureeing Automatic shut-off Non-slip feet Speeds: 3 and pulse.
| | | |
| --- | --- | --- |
| | | |
| Philips Hl1632 Juicer Mixer Grinder with Fruit Filter | . | Capacity & Function |
| The Philips HL1632 500-Watt Juicer Mixer Grinder is the perfect complement to your active lifestyle. The Philips juicer mixer grinder consists of 3 jars that can be used according to the usability. It can be used for mixing, grinding and juicing. This 3-jar juicer mixer grinder comes with a blender jar for soft fruits. This jar has a filter in it, and has a centrifugal juicer that is meant for hard fruits. Its multipurpose jar can be used for mixing, grinding, and pureeing as well. With it, you do not need to buy an extra grinder, it will be quiet economical. Do not hesitate, just buy one. | | This compact juicer-mixer-grinder comes with a juice jar, a fruit filter, a blender jar with a capacity of 1.5 l and a filter, and a chutney jar with a capacity of 0.3 l which is an ideal size for a single helping of chutney. The 1 l multi-purpose jar is ideal for juicing, grinding, pureeing and mixing. |
Power & Safety



.

Whats in The Box




The juicer mixer grinder runs on 230 V and consumes 500 watts of power. It has 3 speed settings and pulse. It has automatic shut-off to prevent accidental overloading of vegetables. It also has non-slip feet to prevent movement of grinder while it is running.

An Ideal Appliance For Every Home!

The package contains:

Base Motor, Top Lid, Juicer Blade, Grinder Jar with Blade and Top Lid, Juicer Blender Jar with Removable Filter, Spatula, User Manual.
| | | |
| --- | --- | --- |
| | | |
| Forefront Knob for Easy Access | . | 3 Multi-Purpose Jars |
| This appliance comes with a speed control knob to shift gradually from lower to higher speeds. The forefront placement adds more convenience for operating the appliance. | | The multi-purpose jar has a capacity of 1 litre and can perform functions like grinding, mixing and pureeing. The 0.3 litre Chutney jar takes care of chutney grinding. This grinder also includes a Centrifugal juicer to extract juice from the hard fruits. |
| | | |
| --- | --- | --- |
| | | |
| Juicer Jar with Filter | | |
| The blender jar comes with a filter to extract juice from the soft fruits and has a capacity of 1.5 litres. The filter ensures you get smooth & lump free juice every time. | | |