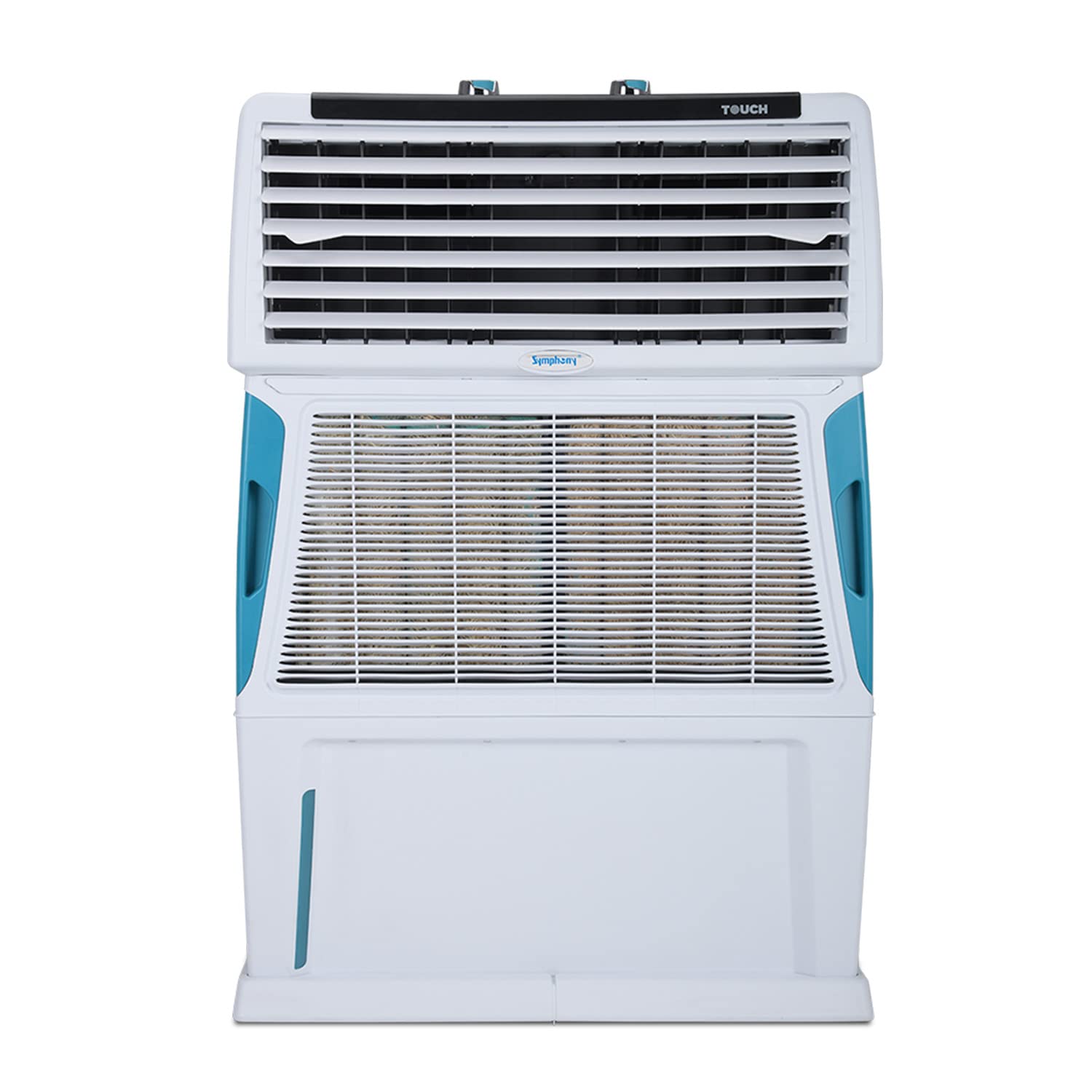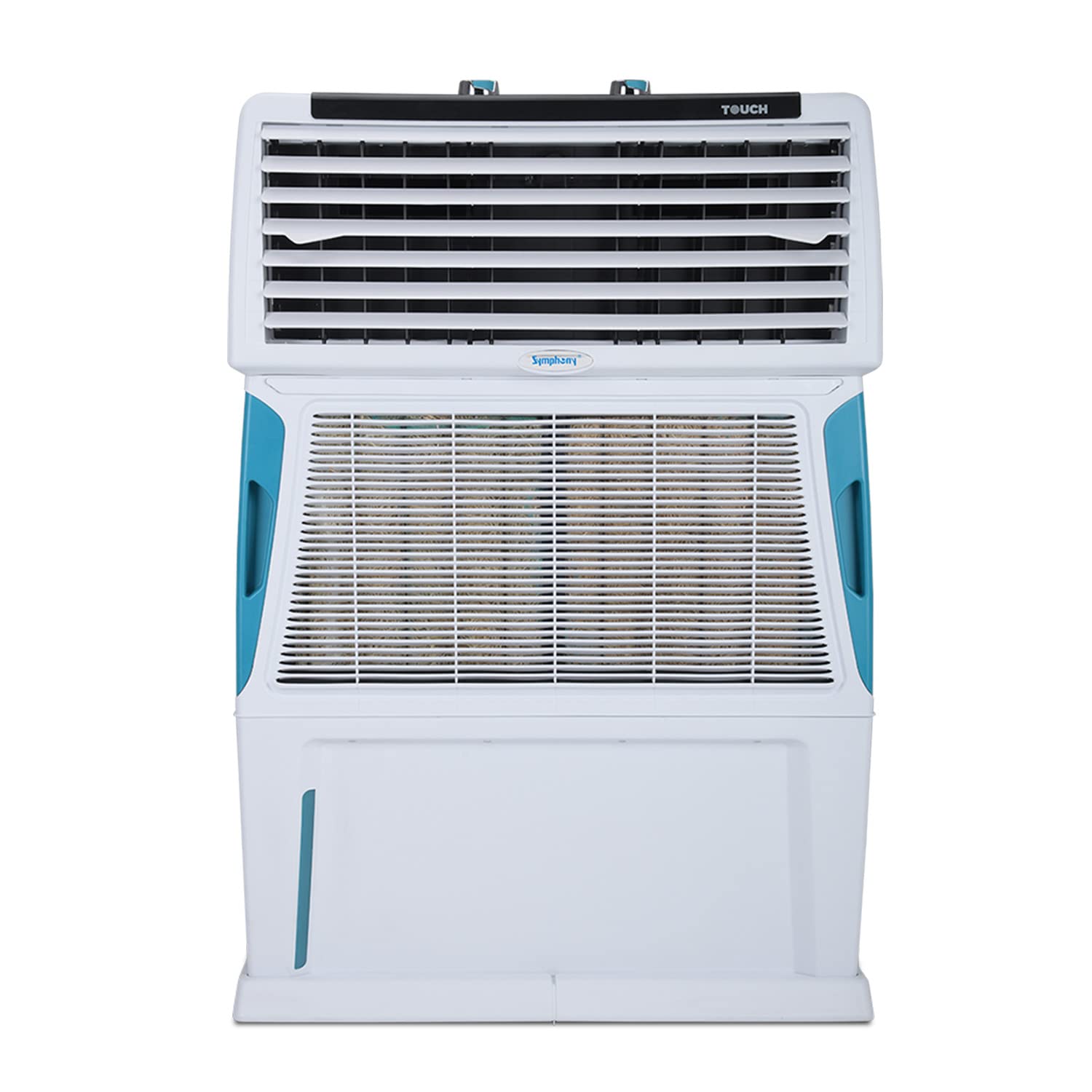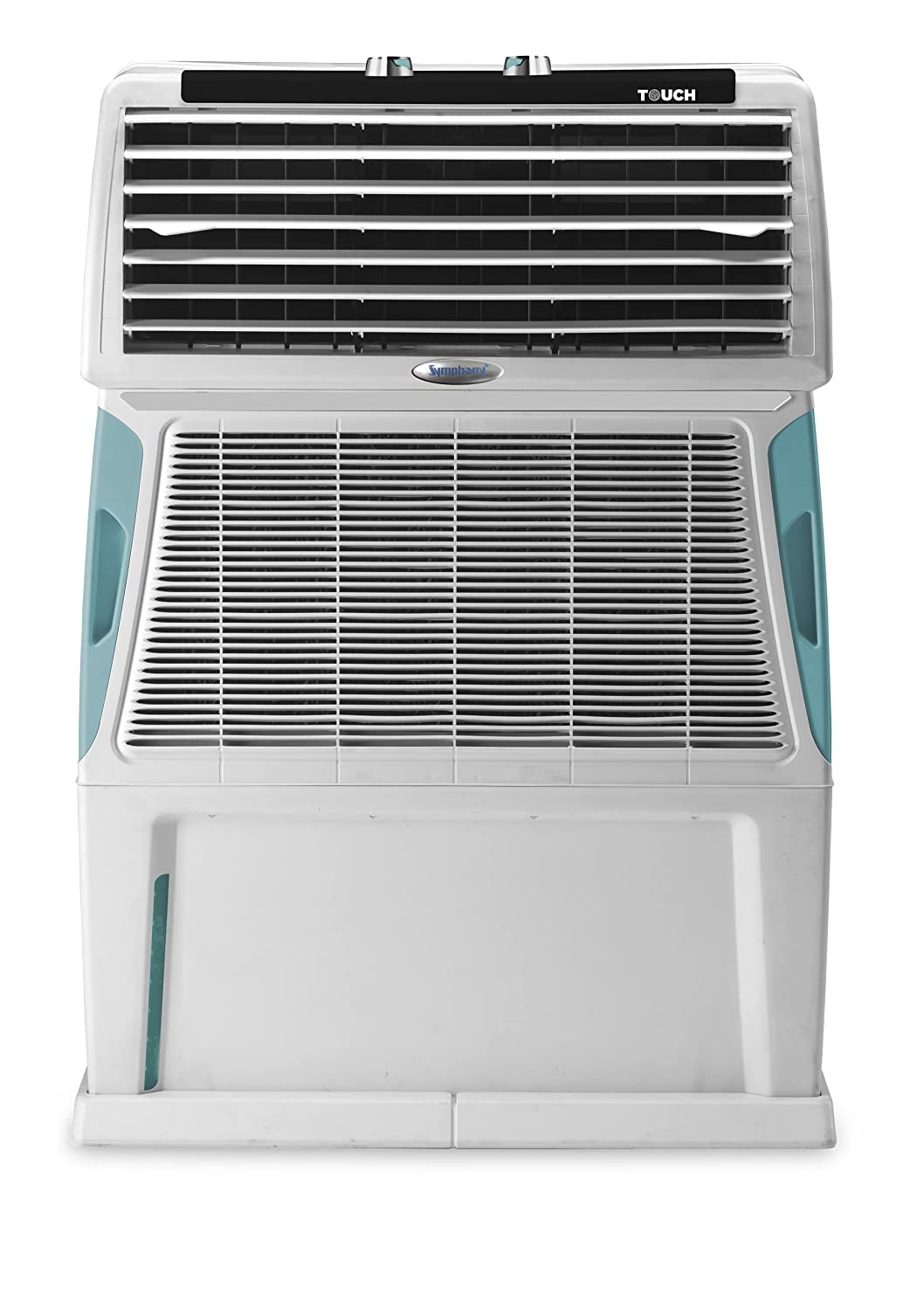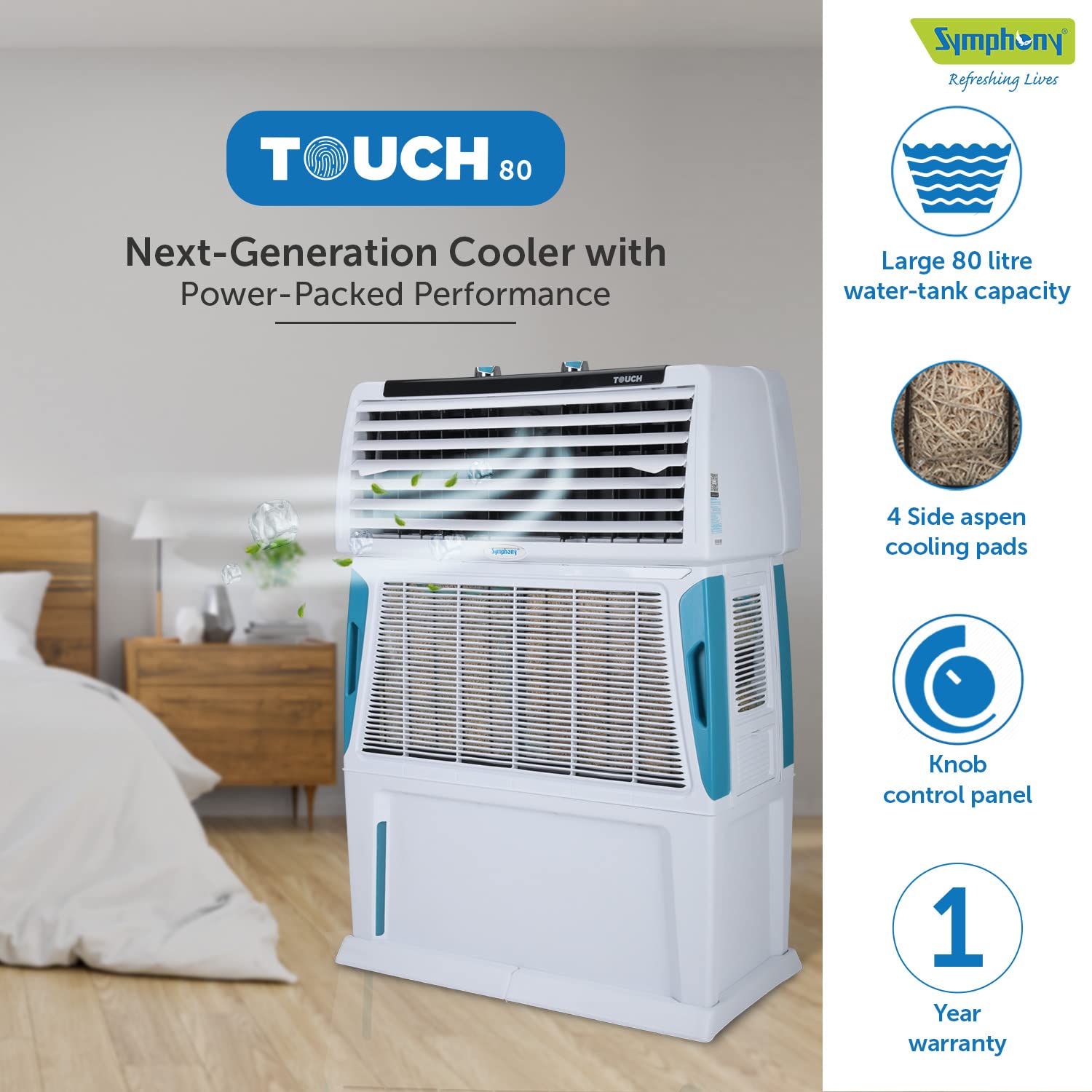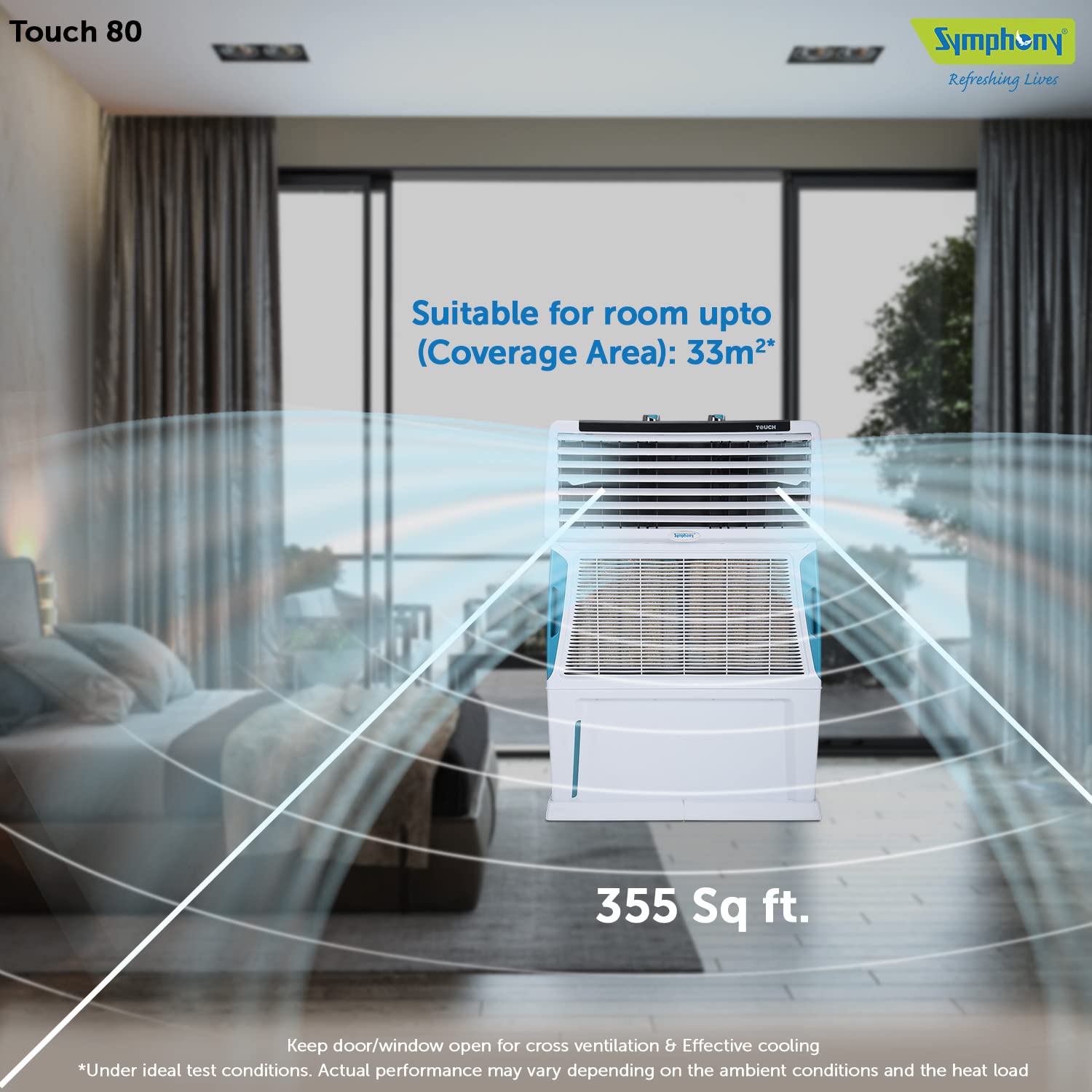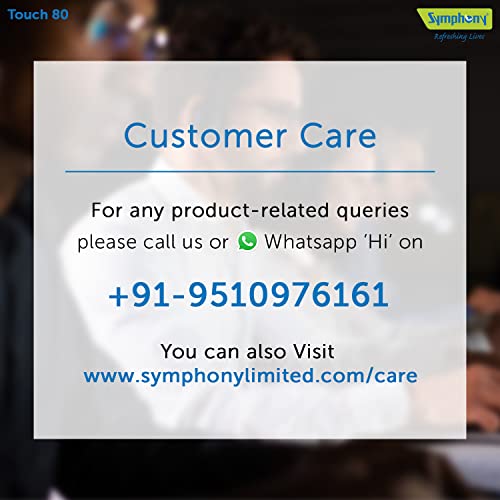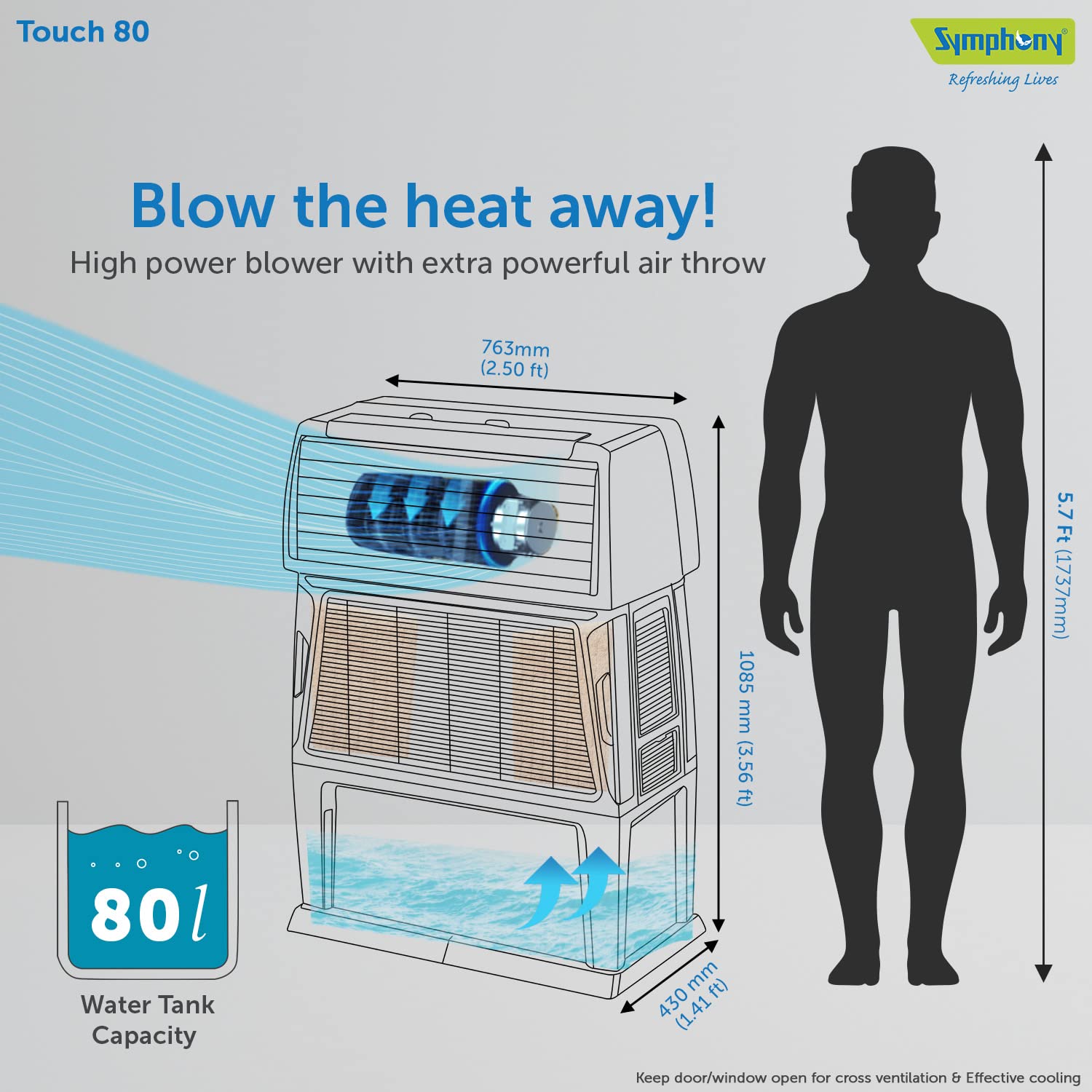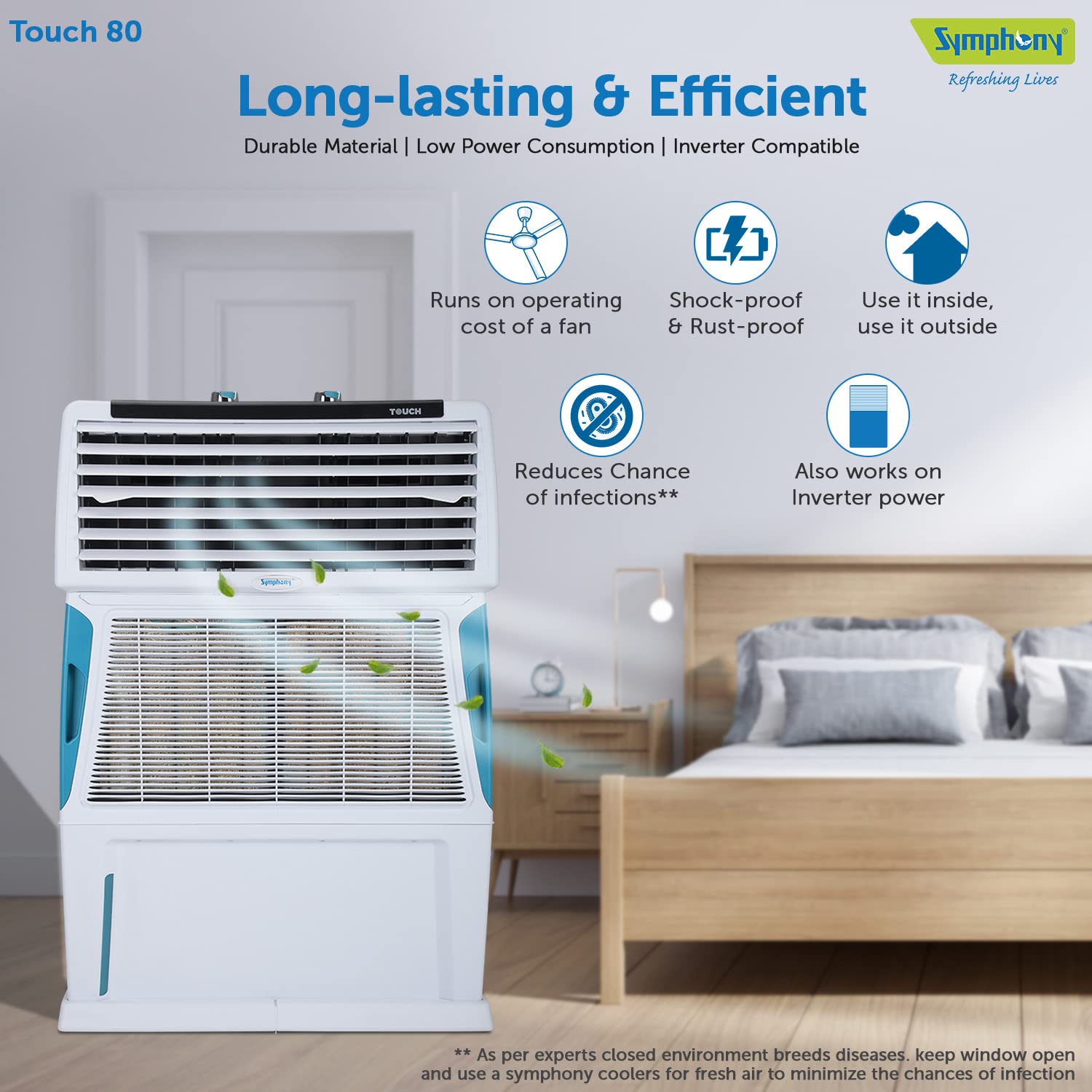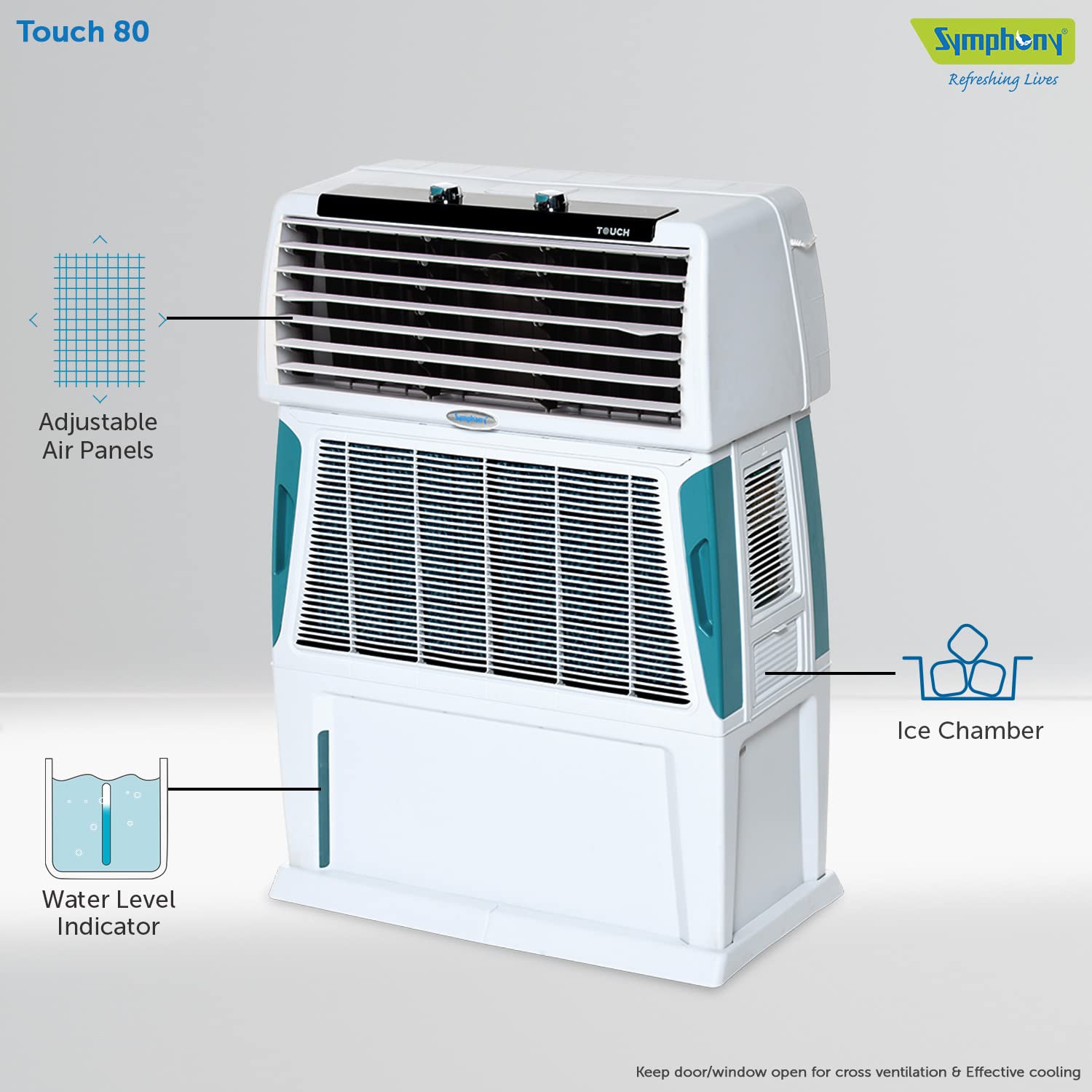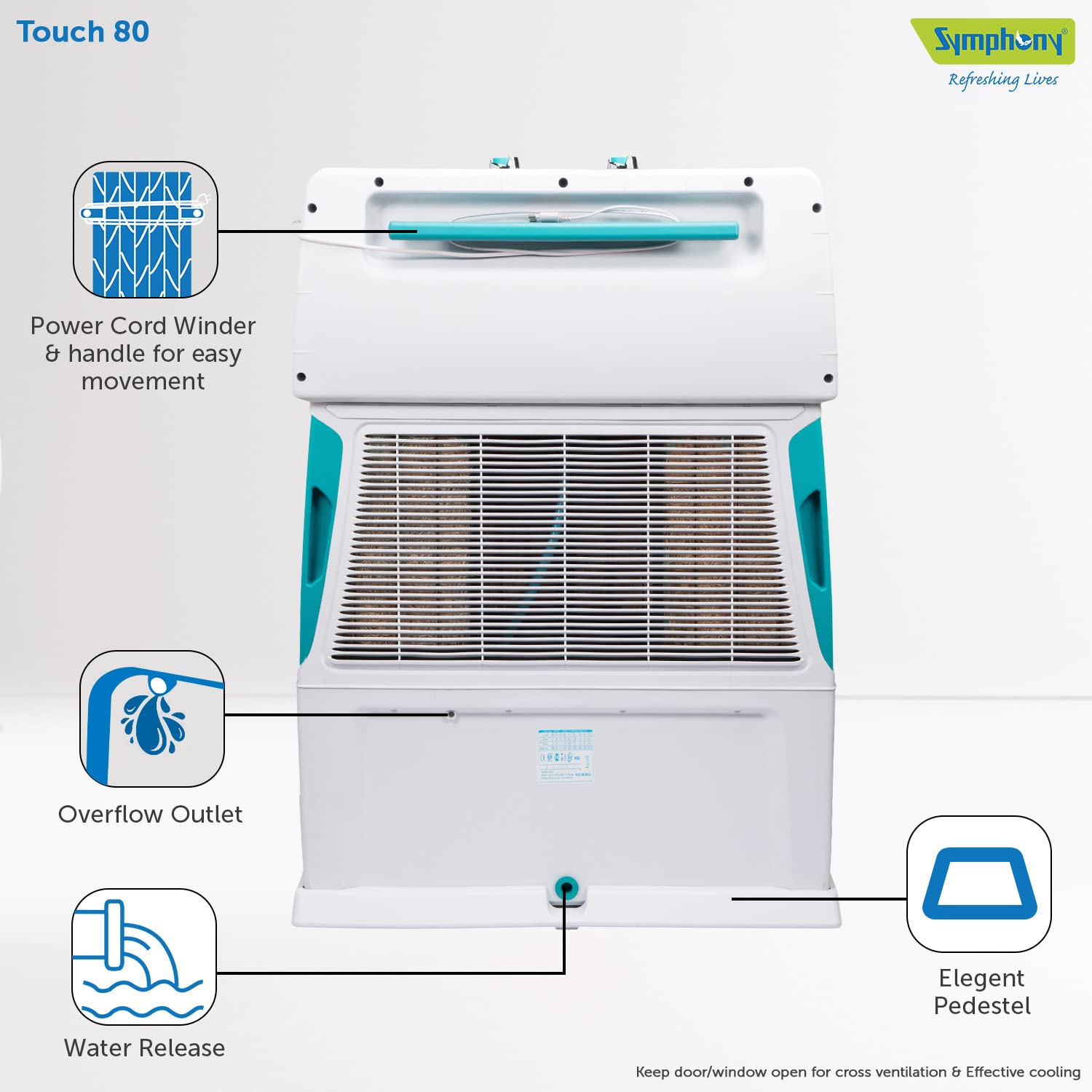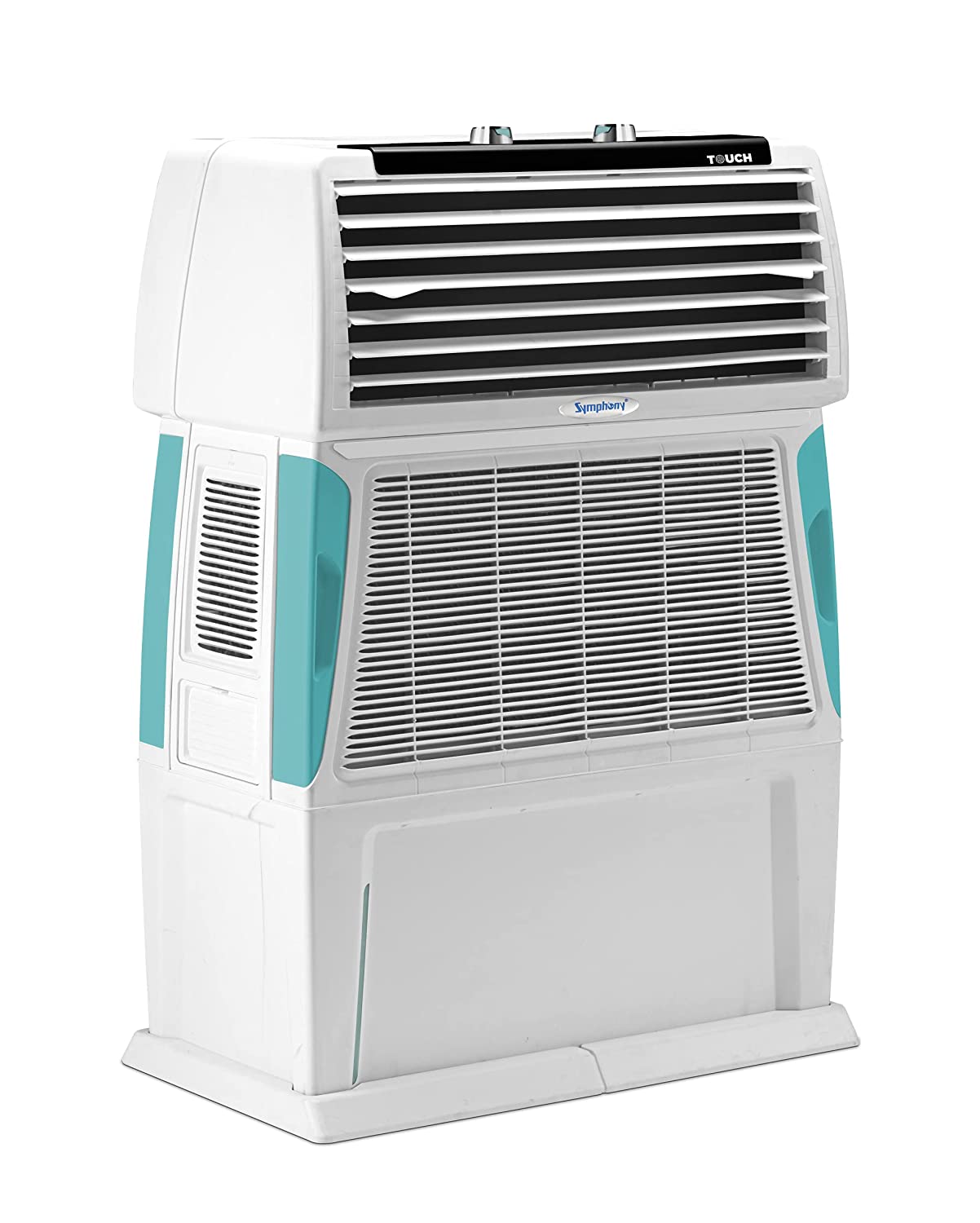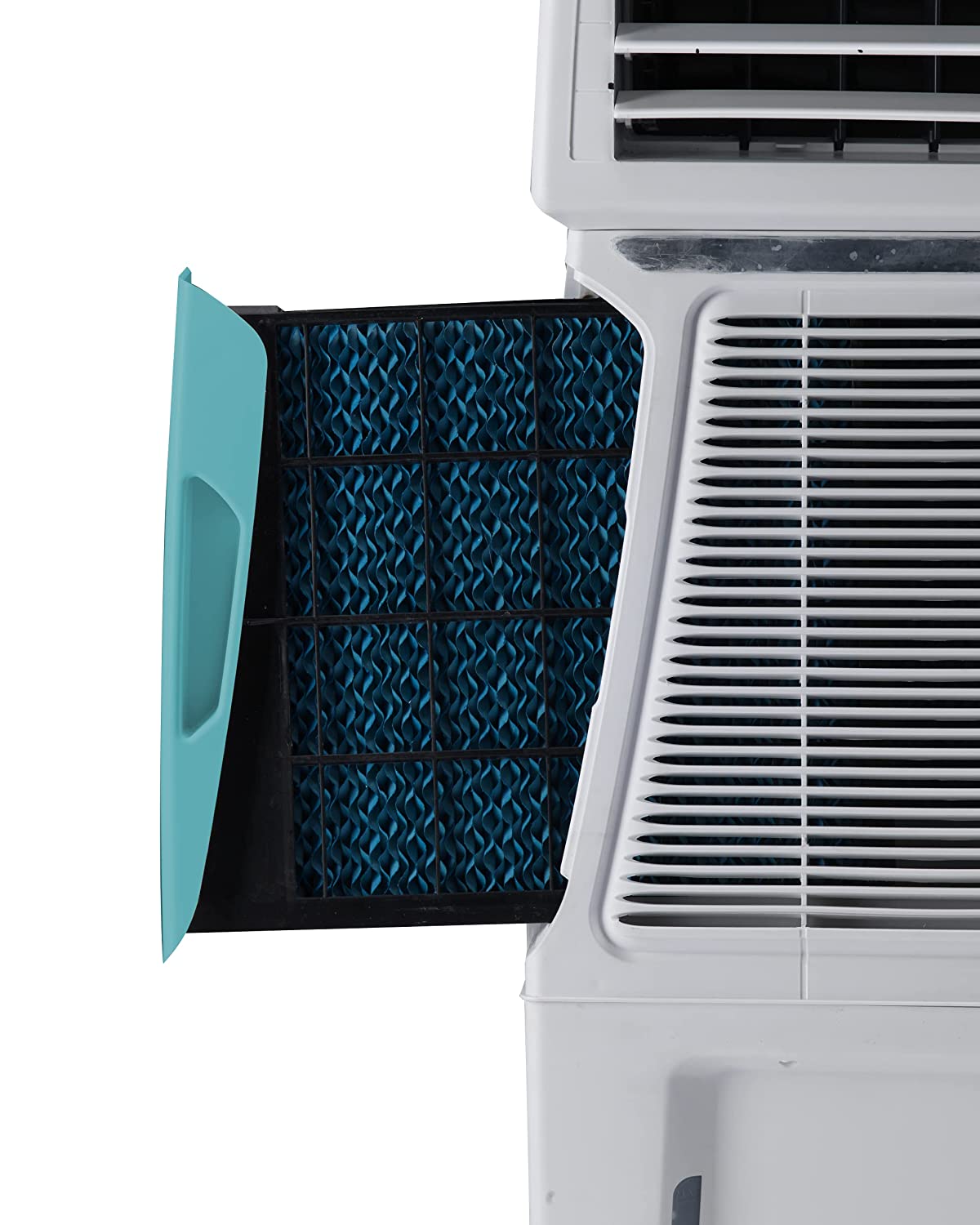 Symphony Touch 80 Personal Air Cooler for Home with 4-Side Aspen Pads, Powerful Double Blowers, i-Pure Technology and Closable Louvers (80L, White)
Non-returnable
Get 100% genuine and authentic product
7 Days replacement guarantee
| | |
| --- | --- |
| Brand | Symphony |
| Colour | White |
| Item Dimensions LxWxH | 76.3 x 43 x 108.5 Centimeters |
| Wattage | 205 Watts |
| Material | Plastic |
| Controls Type | Knob |
| Standby power consumption | 205 Watts |
| Form Factor | Personal |
| Included Components | 1 unit air cooler, 5 unit castor wheels, 1 unit pedestal |
| Item Weight | 19.6 Kilograms |
About this item
Coverage Area: This efficient portable cooler is suitable for rooms up to 33 square meters of the area under ideal conditions
Clean Air with i-Pure Technology: With a multistage filter it combats air pollution, odor-causing microorganisms, and allergies to give you fresh air. For effective cooling keep doors and windows open
High-Efficiency Cooling: With a long-lasting dura pump, 4-side aspen pads, and cool flow dispenser that distributes water evenly on all sides so be ready to beat the heat this summer
Low Power Consumption: This energy-saving cooler for room uses only 185 watts (approximately) and also can be operated on inverters. So unwind this summer without breaking the budget or worrying about power cuts
Large Water Tank: Equipped with a 80-liter water tank and water level indicator, this air cooler will keep you cool throughout summer
Powerful Double Blowers: The high-speed double blowers instantly cools your room, so now enjoy your summers comfortably
Easy-to-Use: Ergonomic dial knobs offer convenient adjustment of fan speed, cooling, and swing mode while adding to its modern and elegant appearance
Closable Louvers: Fully closable louver design prevents dust accumulation on the motor and pump, resulting in a longer service life
Warranty: Symphony touch 80 personal cooler comes with one year warranty from the date of purchase only on manufacturing defects
Package Inclusion: 1 unit air cooler, 5 unit castor wheels, 1 unit pedestal
Symphony Touch 80 Personal Air Cooler for Home with 4-Side Aspen Pads, Powerful Double Blowers, i-Pure Technology and Closable Louvers (80L, White)
Cool Air for Comfortable Summers!
The Symphony Touch 80 Personal Air Cooler is compact and portable, featuring a 80-liter capacity water tank it is your perfect solution to enjoy personal cooling on hot summer days.
Effective Personal Cooling
Engineered with a powerful blower, this cooler is suitable for a wide range of personal cooling. From study rooms to leisure rooms enjoy the cool brisk air this summer.
| | | |
| --- | --- | --- |
| | | |
| Ergonomic Control Knobs | | SMPS Technology |
| Ergonomically designed dial knob controls help make the operation of this cooler convenient while adding to its modern and elegant appearance. | | This technology will automatically turn off the cooler in the event of voltage fluctuations or power surges to keep you safe. |
| | | |
| System Restore Function | | Shock-Proof & Rust-Proof |
| To provide an efficient and customized cooling experience, this smart cooler will automatically adjust to the previous settings that you have used. | | The diligent engineering and premium material of this cooler helps provide shock and rust protection and adds to its long-lasting service life. |
| | | |
| Works on Inverters | | Dura Pump Technology |
| This energy-efficient cooler is thoughtfully designed to consume approximately 110 watts which makes it compatible with inverters as well. | | The energy-efficient pump of this cooler is engineered with dura pump technology to provide a uniform water flow and a long-lasting service life. |
| | | |
| Cool Flow Dispenser | | Large Water Tank |
| This innovative system facilitates the even distribution of water on all sides to create a superior cooling experience. | | When it comes to water capacity, this air cooler has a large 55-liter tank with a water level indicator that lets you know when it needs to be refilled. |
| | | |
| Use it Inside, Use it Outside | | |
| This cooler is capable of cooling areas up to 30 square meters under ideal conditions making it perfect to be used in the living room, bedroom, balcony, lawns, etc. | | |