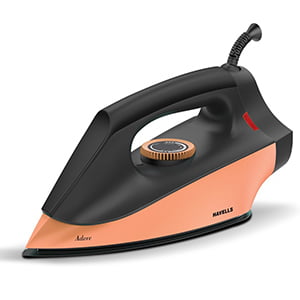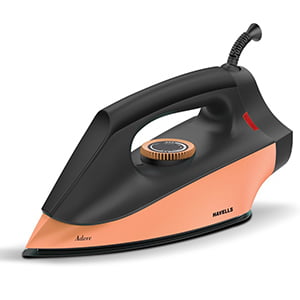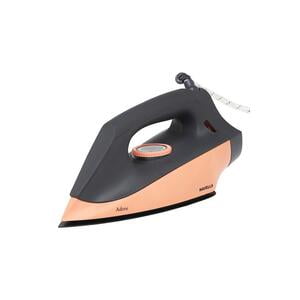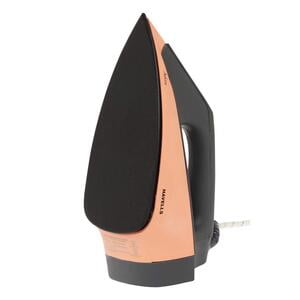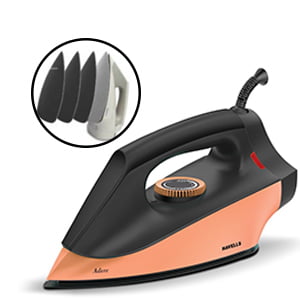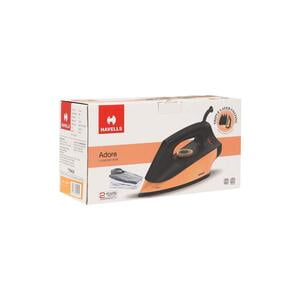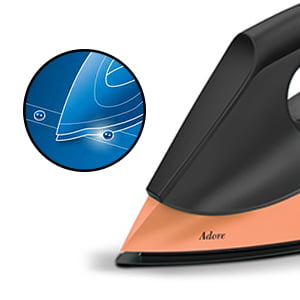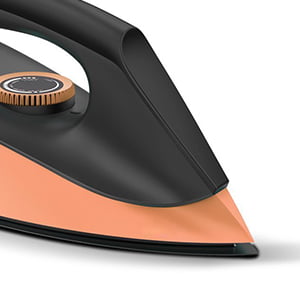 HAVELLS DRY IRON ADORE PEACH 1100W
Non-returnable
The Aerodynamic design of Havells Adore iron speeds up ironing; The full length button groove on this Havells appliance reaches tricky places like along the buttons and seams
Havells dry iron adore has a cord winder with a 360 swivel cord, which makes the iron easy to use as well as store
The teflon platinum PTFE coated soleplate of this Havells dry iron is triple layered
This ensures that no fabric is stuck to the plate of the iron, while you are ironing your clothes
The iron has been manufactured according to the safety standards prescribed by the industry
The DuPont teflon platinum sole plate makes ironing completely safe
Warranty: 2 years on product
Power: 1100 watts; Operating Voltage: 220 - 240 volts
Includes: Iron and Manual
Aluminium Di-casted with Dupont Teflon Platinum PTFE
Are you on the lookout for an easy solution to creases, crinkles and sloppy clothing? Whether it's a nightdress, formal shirt or casual t-shirt, Havells varied range of garment care products is just what you need to avoid unnecessary hours behind a pressing board. Coming across the right iron has never been an easy task with our collection of high-quality irons, designed to make the hard work of ironing a fast and easy practice. Explore a range of garment care options from Havells and never feel the annoyance of ruining fabrics again. Extend the life of your clothes with our variety of irons that will help you care for your favorite garments, keeping them unblemished for long. The Havells iron comes with a very clean surface that finishes the ironing with an appealing look. Also, it comes with a quick heating capacity as well as low power consumption. So, say bye to stubborn creases with the help of Havells steam iron, dry iron as well as garment steamer. You can also buy these irons online by checking their prices from the ease of your home. Ease in pressing, ease in buying, what more could you ask for?

Big bulky pieces of cloth like tablecloths and curtains do not trouble you as much as a sofa slip-cover. However, this dry iron by Havells will help you manoeuvre along the slip-cover with its exceptional 360 swivel cord and aerodynamic design. The DuPont Teflon platinum sole plate makes sure the fabric doesn't get burnt and thereby allows safe ironing.
The aerodynamic design of this dry iron by Havells helps the user to glide along the fabric with ease. Apart from the smooth functioning, it also gives the iron an attractive look.
The full length button groove featured in this iron helps you to iron your clothes without being obstructed by the buttons. The button smoothly fits into the groove during the ironing process.
This iron has a cord winder for the safety of the electric wire. It prevents the cord from getting entangled, twisted and damaged. The cord winder allows easy storage of wires and cords.
The DuPont Teflon platinum non-stick sole plate is a thick, triangular slab that ensures safe ironing. It forms the base of this iron. The double layered sole plate smoothly drifts along the cloth safely.
This Havells dry iron features a 360 degree swivel cord that offers flexibility as you manoeuvre the iron along the cloth. It reduces the effort you put in ironing and makes the act unchallenging.
With a quick heating capacity and a low power consumption, this iron saves both time and power. Many a time, we are late for office and the shirt is yet to be pressed. This iron plays a significant role in times of crisis due to its quick heating capacity.