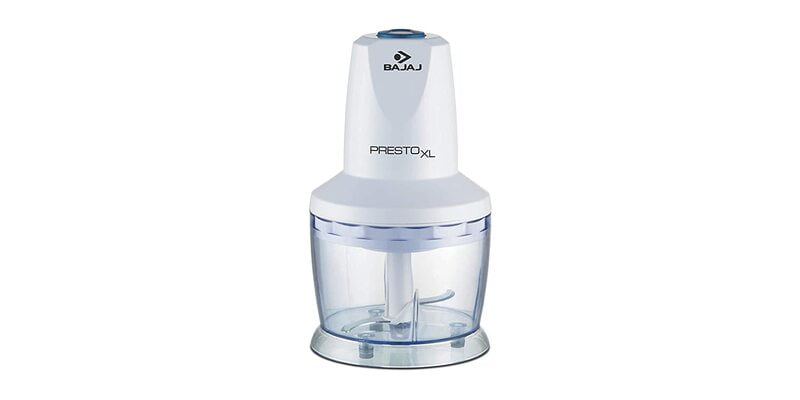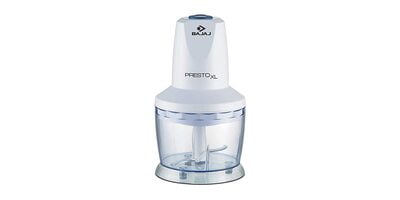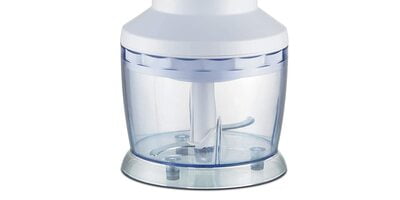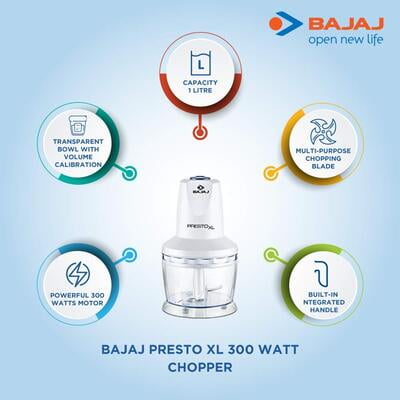 Bajaj Chopper Presto XL
300-watts motor

1 Litre transparent bowl

One touch push button operation

With chopper blade

With whisking disc

Power: 300 watts

100% Genuine Authentic Product

7 Days Replacement Guarantee
BAJAJ CHOPPER PRESTO XL
On the off chance that you are a foodie and love cooking, at that point we're certain this Bajaj Presto XL chopper will be your hero.
With this hand blender, you can slash vegetables, puree tomatoes, and mix fixings together.
This ergonomically structured white hand blender is minimized and doesn't take an excess of room on your kitchen rack.
This hand blender expends pretty much 300 W of intensity - so you don't need to stress over it devouring a lot of power.
Bajaj Presto Xl 410169 300-Watt Chopper Anti skid feet for trouble free working, Multi purpose chopping blade & whisking disc, One touch push button operation, 2 Years Warranty.
BAJAJ CHOPPER PRESTO XL
The tedious, muddled issue of cleaving and working should be possible effectively with our Bajaj Presto XL chopper. Straightforward bowl with volume alignment for simple use. Vitality proficient and ergonomically structured chopper for your kitchen. Exceptionally strong with rust-confirmation treated steel edges.
Not any more exhausting endeavors for food arrangements!
| | | |
| --- | --- | --- |
| | | |
| Highly Durable | | High Performance Motor |
| Our Bajaj Presto XL chopper contains great quality treated steel sharp edges with two connections, to make hacking and working simpler. Rust-evidence cutting edges, a plastic body, and a profoundly viable engine guarantee life span for the chopper. Worked in coordinated handles make it helpful to deal with this chopper for a significant stretch of time. | | Furnished with a 300 Watts engine that works quietly to help you in cleaving and whisking adequately, according to your prerequisites |
| | | |
| | | |
| 1 Litre Capacity | | Accessories Included |
| This Bajaj chopper comes with a capacity of 1 litre. Sufficient enough to meet the consumption needs of a nuclear family. | | This chopping appliance from Bajaj includes a transparent bowl, multi-purpose chopping blade and whisking disc for simplifying food preparations and increasing your productivity in the kitchen. |
| | | |
| | | |
| Compact | | Energy Efficient |
| This ergonomically designed white hand blender is compact and doesn't take too much space on your kitchen shelf. | | This hand blender consumes just about 300 W of power - so you don't have to worry about it consuming too much electricity. |